The end of August is the perfect time for Kalamazoo College to mark National Wellness Month, which prompts individuals to seek healthful habits and routines. As students are preparing to return to campus, this time also provides opportunities to extol the benefits of exercise and K's own Fitness and Wellness Center.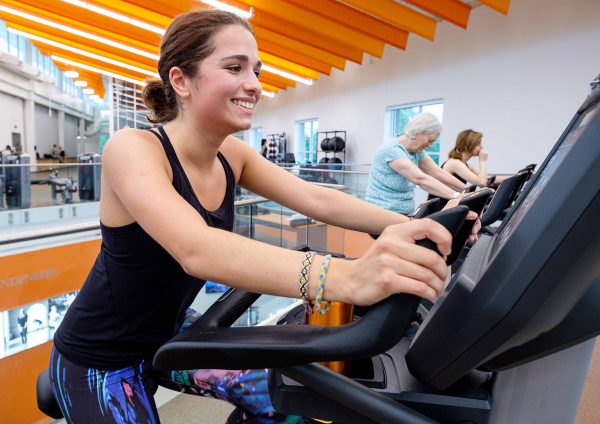 K's Fitness and Wellness Director Jen Bailey notes physical wellness is just one aspect of the dimensions of wellness and it's important our needs as human beings are met with each dimension. However, more studies are showing that regular exercise provides important cognitive benefits that can make studying more efficient, while improving memory retention and focus. It also can boost a student's mood, relieve stress, reduce the risk of illness, improve posture, curb junk-food cravings, and help students set their daily routines.
K's $8.7 million, 30,000-square-foot Fitness and Wellness facility—funded by alumni donors, parents, friends of the College and several foundations—opened in fall 2016 featuring:
A weight and cardio fitness area to meet the needs of all the College's students, faculty, staff and retirees
Three flexible-use multi-purpose rooms available to student organizations such as the Frelon Dance Company, Cirque du K and K-Cheer
Two racquetball courts and a squash court
A dance studio
Expanded locker rooms for general use
A health-assessment room for consultations.
The facility's space also allows Bailey to conduct small-group programs throughout the year while partnering with student organizations such as K-Team, a student organization focused on body positivity, exercise, self-care and a healthy self-image. Many physical education classes are also held in the building such as yoga, tai-chi, racquetball, strength training, dancing, martial arts and fencing.
As students arrive at K, they will find more information on fitness and wellness programs through word of mouth, flyers and the campus calendar. In the meantime, Bailey offers a few points of advice for students looking to start fitness routines when they arrive on campus.
Do something you enjoy
"You'll be more likely to stick with it and make it a part of a routine when you do something you enjoy," Bailey said. "Fitness is fun and the overall goal is to continue to be active across your lifespan."
Have a SMART goal
Follow the acronym when you create small goals by making sure your fitness goal is specific, measurable, attainable, relevant and time sensitive.
Visit the Fitness and Wellness Center during orientation
Students can take advantage of Fitness and Wellness Center orientation hours from 8 to 10 p.m. Friday, Sept. 13; and noon to 4 p.m. Saturday, Sept. 14, and Sunday, Sept. 15. Kalamazoo College IDs will be required to access the building during these times, providing students an opportunity to use the equipment, receive a tour and ask questions.