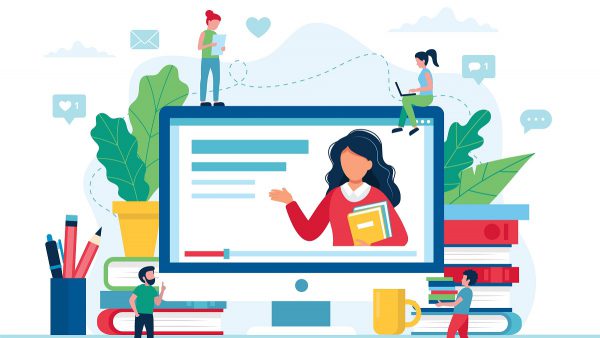 With small businesses struggling in 2020, some Kalamazoo College business students accepted a call to build ideas that could help entrepreneurs locally and beyond.
L. Lee Stryker Associate Professor of Business Management Amy MacMillan challenged her Principles of Marketing class in the fall term to create real-life, actionable business plans that could assist business owners in persevering and even growing through the pandemic.
"I was hoping to create a new experience that was right for this particular time, recognizing that the world is just not the same right now," MacMillan said. Teams of students were randomly assigned to small businesses, some with whom they had existing relationships, and others they were getting to know for the first time. Yet this is the first time one of MacMillan's classes worked virtually to help several businesses at once.
"Sometimes we'll pick one business and we'll have different teams competing against each other," she said. "It just felt like this moment was right for collaboration." To re-enforce this, she named the project "PandemiK Partnerships."
Ultimately, students—sometimes meeting remotely across continents—came up with recommendations that could help the businesses grow and presented those recommendations in a 25-minute Zoom meeting with the business leaders to conclude the course. Here are a few stories of their success.
Energetic Soul
Vanessa Vigier '21, a business and international area studies major from West Bloomfield, Michigan, recommended that MacMillan approve her group's idea to work with Energetic Soul, a business near Detroit that's close to Vigier's heart and identity.
"Energetic Soul is a dance studio that focuses on Afro-Cuban dance, movement and fitness," she said, adding that she and her mom have participated in classes there before. "I'm actually of Afro-Cuban origin, so when I discovered this studio, I thought it was perfect. I was super excited when we were approved to work with them because I've always wanted to see it expanded to people my age."
That idea to recruit younger clientele sparked Vigier and her group, gathering virtually from as far away as Vietnam, toward surveying young adults regarding what might prompt them to attend a dance class. They also outlined concepts for Instagram advertising and analyzed price models that could allow college students to attend.
"It seemed like most of the people we surveyed wanted to have a social experience that would allow them to have fun," Vigier said. "We used that to create a plan of conducting individual group bonding sessions for student organizations, sports teams, Greek-letter organizations and dance teams. We felt the more Energetic Soul did these group bonding sessions, the more people would get a good taste of it and continue."
Sure enough, even a few in Vigier's group admitted they weren't thrilled with the idea of attending dance classes themselves before developing their plan, but that soon changed.
"By the end, they were interested in taking a class," Vigier said. "For me, it was exciting because I really want people to try it, and the more people can learn about the business in unexpected ways, the more we can grow Cuban dance and make it more popular."
Honore Salon
Joshua Pamintuan '22, a business major from California, said he was a little intimidated to hear of a project like this one during a term in virtual learning.
"I was a little hesitant because I've never done anything so real-life oriented, where I'm actually working with someone or a company outside of school," he said. "Projects have been theoretical, but nothing had been quite so hands-on."
Yet his team of students found a valuable experience working with Honore Salon, a team of stylists offering haircuts, styling, hair coloring, wax treatments and extensions in downtown Kalamazoo.
"Honore Salon has a great team of staff and stylists," Pamintuan said. "It seems customers are very loyal and they're family oriented. That makes them successful with the community and the customers they have."
With weekly meetings, Pamintuan and his team developed a plan to highlight those characteristics through social media. Surveys revealed Honore Salon customers typically use Facebook and Instagram, which could be used to develop repeat business.
"Our big objective for them is to increase comfortability with customers returning to their salon and building their social media presence through Facebook and Instagram," he said. "To fulfill those objectives, we recommended creating a COVID-walkthrough video so clients could see Honore is taking the right steps to ensure that safety is a priority. We also recommended turning their social media profiles into business accounts so they can gain analytics about who their followers are and better tailor the content they post, making it more personal. We want to see content that helps customers get to know their stylists, and content that is very digestible about their products."
A final presentation to the business included a video with a short skit of a business walk-through, slides and templates making social media content easier to create, and advice regarding data analytics to measure their success.
"The technical skills I gained from this experience—like coming up with a business proposal, collecting and analyzing data, and learning how to give a professional presentation—will help when I transition into the business world," Pamintuan said.
Jaded CBD
Alexis Petty '23, a business and psychology double major from Otsego, Michigan, made her project a family affair by working with her peers on her sister's business, Jaded CBD in New York City.
That, however, didn't mean that coming up with a marketing plan for the business was easy. CBD oil is a product of a cannabis plant. It's different than THC and creates no high, but the Food and Drug Administration regulates what businesses can say about such products.
"You have to be careful and disciplined with what you say and the claims you make," Petty said. "So much of the advertising for CBD oil is through personal stories using social media channels and social media influencers. It's non-addictive and there's no high. You don't get overly drowsy, and it's an anti-inflammatory that can help relieve stress and provide a better night's sleep, although you can't necessarily make these claims on social media."
Petty and her group limited their talking points to CBD oil being non-GMO, vegan, cruelty-free, lab tested and safe for a consumer's body, although a survey of Jaded CBD clients nurtured other ideas for the business including a subscription plan for clients and a new product.
"Right now, they only have a bigger bottle with 30 milliliters," she said. "We implemented what we found in the survey by recommending a bottle being available at a third of the size for a third of the price."
Jaded CBD is in the process of implementing the smaller size, along with some advertising concepts recommended by Petty and her partners, and a chewable product of the business's own development. Despite some challenges, including one group member being in China this term and another consistently traveling between Chicago and Kalamazoo, Petty and her partners received positive feedback.
"Marketing is definitely an attractive field," Petty said. "I was blessed with the group we had and I was happy to work with a small business to develop it."
Bilbo's Pizza
Mackenzie Maiorano '22, a business major from Commerce Township, Michigan, approached MacMillan about allowing her group to work with Maiorano's employer, Bilbo's Pizza. The Kalamazoo restaurant is known for handmade pizzas and craft beer, and is named for the character in J.R.R. Tolkien books.
"I was nervous about working with the place where I'm employed," Maiorano said. "I didn't want to overstep any boundaries. It was kind of intimidating at first. But when we started talking with the team, it was easier than I anticipated."
Her group made three primary recommendations to her manager including revamping the business's social media presence toward more frequent and personal posts, re-centering its marketing messages toward college-age students, and conducting a College Night at the restaurant. Restaurant closures forced by the pandemic have paused efforts to implement those suggestions, although Maiorano is ready to recommend that she serve as a social media intern for Bilbo's when it reopens.
"I think this project was intended to benefit the community by helping college students and helping Bilbo's get more business," she said. "When I talked to people about my project, they said, 'we love Bilbo's and we'd love to see them get more business.' We're hoping after they reopen and we do the College Night, we'll have a spike in the sales from having more college students go. The manager loved our ideas and I think we impressed him. He wanted me to present it to everyone who works there. I told him that's kind of scary, but I can do that."
Roche Collection Winery
Baylee Bacheller '22, a business and history major from Constantine, Michigan, overcame some early hesitation with her group to create a plan for Roche Collection Winery.
"I definitely thought this class would be more about reading text books and lectures," Bacheller said. When Professor MacMillan told us we'd be in groups, it was kind of scary, but it quickly turned into something really cool. It was exciting."
The winery is in the process of opening a tasting room in downtown Kalamazoo. The business's website says it develops contemporary, delicious and luxury Michigan wine collections.
"Our objective was to try to bring exposure to the tasting room and making it an environment where customers feel welcome," Bacheller said. "We have recommended they do Facebook advertising so she could hone in on target audiences with different demographics, a billboard in Kalamazoo, and specialty nights that target women age 30 to 50. The one we were really suggesting was Ladies' Nights."
The business was receptive to the survey students conducted through people in the Kalamazoo area, who could be prospective clients. The winery could have some stiff competition, although the students were able to help develop a plan for it.
"We'll see how the tasting room opening goes," she said. "We were able to make a really good connection with the owner and she was receptive to our ideas. Hopefully, we can find out whether she was successful. What sets the Roche Collection and the tasting room apart is the warm atmosphere and welcoming environment. The new tasting room will have table-top seating and a warm, welcoming environment for all ages."
In the end, the class helped Bacheller change her mind regarding a possible future in marketing.
"I wasn't a fan of marketing coming into the class, but this is something I learned to like," she said. "I really enjoyed this project and it helped me see the value for what it is," she said. "I felt even if just one singular sentence we said helped the business, it was worth it to me."
Intentional Yoga
When the opportunity to nurture a small business in the Principles of Marketing class came along, Jake Nugent '22 was excited to recommend Intentional Yoga of Kalamazoo to Professor MacMillan and his work group. He's a client there himself.
"They're very community oriented and it's a place where I thrive," he said. "I'm all about bringing people together and they have aspects of what I really value in life. Yoga is very grounding to me. Whenever I'm super stressed, it's where I go to be present in the moment."
The business specializes in hot yoga, which takes place in a 100-degree room that enhances sweating. Before the pandemic, Intentional Yoga conducted several 60- to 75-minute group sessions per week with a broad clientele, ranging from college students to seniors. It now conducts online sessions with in-person group exercise classes being suspended in Michigan.
After meeting with a co-owner, Nugent and his group went to work on making recommendations for Intentional Yoga's email marketing and outreach to college students.
"We made a survey that we sent to current clientele," Nugent said. "We learned they needed to be more personable with their email, so we gave them the idea of including a 30-second video with a class instructor in each email. We also thought they could do a monthly destress week with an online class that college students could attend online for free."
With a loyal customer base maintaining their memberships throughout the pandemic, the business is on solid footing, yet eager to implement the recommendations Nugent and his team made to emphasize that yoga is for everybody. Nugent found that news, and the class itself for that matter, to be rewarding.
"If you go into marketing, this is something you would have to do," Nugent said. "That's something I really value in a class. I'm good at reading books, but that doesn't really drive me. I would say this project took a lot of people out of their comfort zone and it drove me to find answers for this business. I looked at this not just as a project, but as something I could keep doing in the future."
Meaningful Experience
As students worked with businesses virtually to develop their plans, the experience in many ways reflected the new reality many professionals are facing with increased telework and new ways of communicating across organizational and geographical boundaries. It also provided an opportunity to support small businesses in a meaningful way. "With virtual teaching, I wanted to create something that had real meaning for us, and also something that could help us feel good about what we're doing," MacMillan said.
Helping students develop their skills and build confidence in their own abilities was another important outcome of the course.
"I feel like a coach, trying to bring out the best in people. You want students to bring their experiences to life, and you want them to believe in themselves and believe in their ability to present confidently, to tackle a problem strategically," MacMillan said.