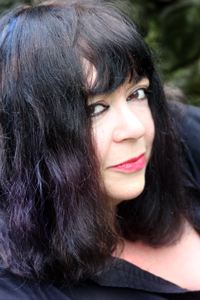 DI SEUSS NAMED one of two finalists for the 2016 Pulitzer Prize for Poetry! A first in the history of Kalamazoo College to have one of her own so honored. Di is an alumna (class of 1978) and Di is our writer-in-residence and Di is an assistant professor of English. "Di is" is the roiling wellspring and outflow of her remarkable books, most particularly Four-Legged Girl, which the Pulitzer jurors describe as "A richly improvisational poetry collection that leads readers through a gallery of incisive and beguiling portraits and landscapes."
I like to think of each Di's books as a glimpse (part dark, part light, and both motion) of a journey into "Di Seuss named," a good name for a vast, strange and absolutely singular land at the margins of the world.
Graywolf Press commissioned Di to write an essay on Myrtle Corbin, the four-legged girl and Di's muse for part of her recent collection. You can see Myrtle–or a portion of her–on the cover of Di's book. Di's essay, writes her publisher, is "something dark, weird, and beautiful." It calls forth the poet Emily Dickinson and (at least for me, albeit less explicitly) another hero, another "Di," the photographer Diane Arbus.
"When born with two vaginas, what is a girl to do?" writes Di Seuss in her essay, "Wear white, collect plants by moonlight and construct an herbarium, become a recluse, write poems? Or take the other route: join the circus, become, as Myrtle did at thirteen, a live exhibit. Without the economic privilege a poetic genius freak like Dickinson was born into, the Four-Legged Girl went for the paycheck. She dressed all four of her appendages in striped socks and black boots and pulled up her skirt to reveal the four knots of her knees. She wore fringe and silk and a hair bow. Her bangs were plastered to her forehead in spit curls with whatever they used for styling gel in those days. Oh yeah. spit."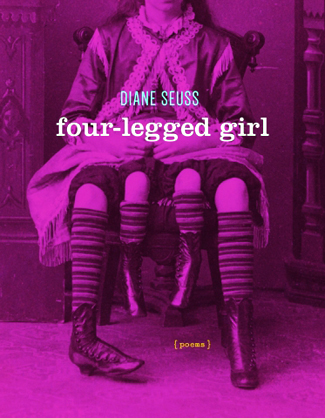 Arbus once wrote, "Freaks was a thing I photographed a lot….There's a quality of legend about freaks. Like a person in a fairy tale who stops you and demands you answer a riddle. Most people go through life dreading they'll have a traumatic experience. Freaks are born with their trauma. They've already passed their test in life. They're aristocrats."
Later in her remarkable essay about her remarkable book's namesake, Di Seuss writes, "I believe my association with her predecessor paved the way. My first love was the taxidermied two-headed lamb in my little hometown museum. He was John the Baptist to Myrtle's Jesus. In his two soft heads and four sweet eyes I discovered the vulnerability and genius of marginality, the burden and the gift of originality….I love and lust after Myrtle Corbin because she is queered and empowered by her idiosyncrasy…dizzied by the realization of her absolute singularity. I experience my own body as a spectacle, an exhibit, a performance, and a condition. My legs are exponential….
"Our whole guise," echoes Arbus, "is like giving a sign to the world to think of us in a certain way but there's a point between what you want people to know about you and what you can't help people knowing about you….I mean if you scrutinize reality closely enough, if in some way you really, really get to it, it becomes fantastic. You know it really is totally fantastic…. Nothing is ever the same as they said it was. It's what I've never seen before that I recognize."
Di's poems (and prose) take me to what I've never seen before.