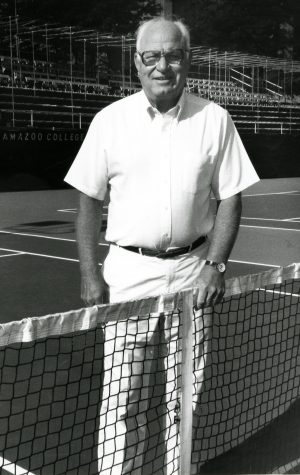 Rolla Anderson, namesake of the Rolla L. Anderson Athletic Center on Kalamazoo College's campus, died on Wednesday, April 25. He was 97 years old.
Anderson came to K in 1953 and was director of men's athletics until his retirement in 1985. In 1962, he led the Hornets to an undefeated football season and was named Michigan Coach of the Year in news media balloting. Under him, the team again won the MIAA championship in 1963. He also led teams to championships as a coach in tennis, golf and cross country, and he coached basketball. Anderson was a long-time director of the United States Tennis Association (USTA) Boys' 18 & 16 National Championships.
"Generations of Kalamazoo College student-athletes benefited from Rolla's guidance and leadership," said President Jorge G. Gonzalez. "He was well-known for tirelessly stressing the importance of sound physical education in the liberal arts."
Named a professor of physical education in 1965, he continued to be an active and enthusiastic supporter of the College in retirement, and was a leader in Kalamazoo civic organizations and the USTA.
Anderson Athletic Center was dedicated in his name in 1981, and he was inducted into the Kalamazoo College Athletic Hall of Fame in 1992. In 1997, he received the Kalamazoo College Alumni Association's Weimer K. Hicks Award, which recognizes employees who have made exceptional long-term contributions to the College.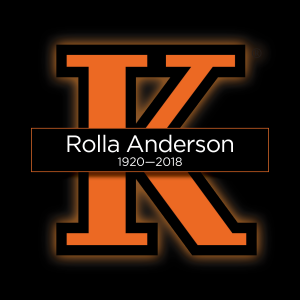 A 1944 graduate of Western Michigan University, he was a star in basketball and football there and was inducted into the university's Athletic Hall of Fame in 1982. He also is in the hall of fame at Southeast Missouri State University, where he was a member of a championship basketball team before transferring to Western.
He was preceded in death by his wife, Patricia, in 2010.
A memorial service will be held at 10:30 a.m. Saturday, May 5, in Stetson Chapel, followed by a time to visit with the family. Anderson's family has asked memorial gifts be made to the Rolla and Pat Anderson Athletic Endowment at Kalamazoo College, a fund that will support the Hornets in perpetuity.