Nearly 100 Kalamazoo College students, participating as cast members and crew, will present "The Rocky Horror Show" Nov. 3-6 at the Nelda K. Balch Playhouse, 129 Thompson St., in Kalamazoo.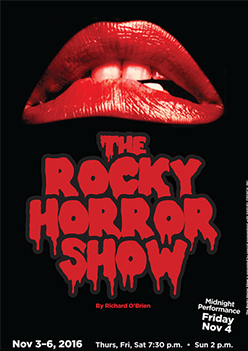 The stage production of this cult classic, directed by visiting instructor Jon Reeves, tells a story about Brad and Janet, a newly engaged couple, who get stuck with a flat tire during a storm and discover the eerie mansion of Dr. Frank N. Furter, a transvestite alien scientist.
Brad and Janet meet many characters through dances and rock songs as Frank N. Furter unveils his latest creation, a muscular man named Rocky. The production is a satirical tribute to the science fiction and horror B movies from the 1930s through the early 1970s. Please note there is mature subject matter and language.
The shows start at 7:30 p.m. Nov. 3-5 and 2 p.m. Nov. 6. There's also a midnight showing planned for Nov. 4.
Kalamazoo College students, faculty and staff are admitted free with their school ID. The general public may call the playhouse box office at 269-337-7333 for tickets. Reservations are encouraged.
For more information, visit the Festival Playhouse website at kzoo.edu/festivalplayhouse.