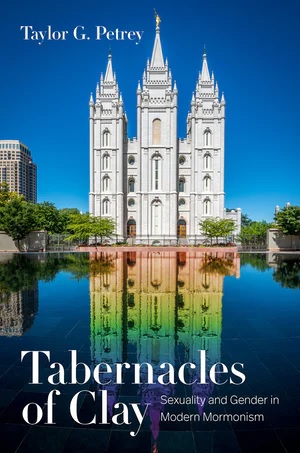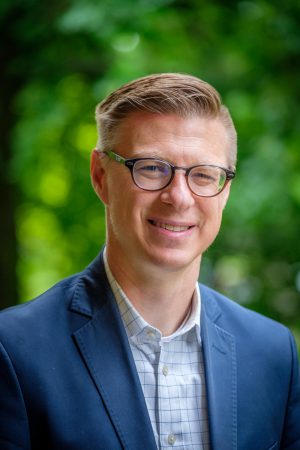 An often-forgotten member of the religious right and its views on gender identity are the subjects of a historical book released this month by Kalamazoo College Religion Department Chair Taylor Petrey.
Petrey said the post-World War II views of Evangelicals and conservative Catholics are well-documented, as they traditionally reflect political opposition to feminism, same-sex relationships and trans identities. But what about the Church of Jesus Christ of Latter-day Saints, popularly known as Mormons? That record has been incomplete if not completely non-existent until the release of Petrey's book Tabernacles of Clay: Sexuality and Gender in Modern Mormonism, published by the University of North Carolina Press.
"I'm trying to situate Latter-day Saints in a broader conversation about the nature of gender and sexuality," Petrey said. "I'm showing what's most surprising is that even conservative religious groups think not that gender and sexuality are fixed and predetermined or divinely ordained categories, but rather they rely on social constructions of gender to make sense of conservative teachings."
The LDS Church's leadership and older generations of church members have steadfastly maintained conservative views related to gender identity despite experiencing some discrimination themselves from other denominations.
"Latter-day Saints have often felt that sting of being excluded from the broader culture of Christianity," Petrey said. "But one of the strategies they've used to integrate themselves into the broader culture of Christianity has been to adopt these conservative values and create social and political alliances with the religious right. That made a lot of sense after World War II. It created a kind of alliance or shared identity to say, 'We're Christians just like you.'"
However, younger generations of Latter-day Saints in congregations nationwide have commonly aligned themselves with more progressive views.
"At a local level, you might find a diverse range of views on these topics with a generational divide," Petrey said. "Younger members tend to be much more liberal. They might not be as liberal as generational peers, but much more than their own older generations."
The book doesn't push for change toward more progressive views as a result of this trend. Yet the historical record shows how the church's teachings have shifted somewhat, prompting some optimistic outlooks for Mormons in the LGBTQ community, for example.
"The popular story that most people know or believe is that the church has never changed its teachings," Petrey said. "It's a common way that many churches express themselves. 'We've always taught this.' What the book shows, actually, is the church has changed its teachings quite a bit in the last 70 years. And for many people, that gives some glimmers of hope that it may continue to change."
Petrey's first book, Resurrecting Parts: Early Christians on Desire, Reproduction and Sexual Difference, was released in 2015. He also edited Re-Making the World Christianity and Categories: Essays in Honor of Karen L. King in 2019 and the just-published co-edited volume The Routledge Handbook on Mormonism and Gender in 2020. In 2018, Petrey was prominently interviewed in Church and State, a documentary about the toppling of Utah's gay marriage ban, and he currently is the editor of Dialogue: A Journal of Mormon Thought. Plus, his latest work, available online and at bookstores, has generated public enthusiasm since the first advance copies were distributed about six weeks ago and Petrey is looking forward to receiving more feedback.
"I have been overwhelmed by the positive response," Petrey said. "Immediately, the most eager readers were other Latter-day Saints, especially gay Latter-day Saints, and I've been incredibly happy with the first reviews that have come out online and the buzz about the book so far."