Kalamazoo College's Delta Chapter of Phi Beta Kappa welcomed 42 outstanding seniors into its cohort on June 7, 2023, recognizing their exceptional scholastic achievements across disciplines. With a strong commitment to fostering a love for learning, Phi Beta Kappa honors these new members for their academic ability and intellectual curiosity. 
Founded in 1776, Phi Beta Kappa is the nation's oldest and most prestigious academic honor society, boasting 17 U.S. Presidents, 42 U.S. Supreme Court Justices, and more than 150 Nobel Laureates among their ranks. The society's mission is "to champion education in the liberal arts and sciences, to recognize academic excellence, and to foster freedom of thought and expression." 
Acceptance into Phi Beta Kappa is considered one of the highest academic honors a student can receive as the society is known for its rigorous selection process that evaluates students' achievements across the arts, natural sciences, humanities and social sciences.
As these talented individuals embark on the next chapter of their educational and professional journeys, their Phi Beta Kappa membership will serve as a symbol of their exceptional accomplishments and dedication to the pursuit of knowledge. The Kalamazoo College community looks forward to witnessing their future contributions and the positive impact they will make in their chosen fields.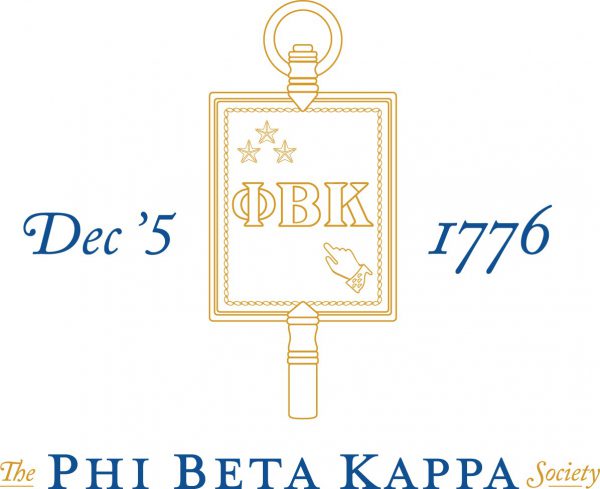 Join us in congratulating the following students,
Hashim Akhtar of Saginaw, Michigan; biology major, psychology minor, biochemistry and molecular biology and biological physics concentrations
Abigail Barnum of Byron Center, Michigan; biochemistry and German majors
Eleana Basso of Evanston, Illinois; psychology and studio art majors, art history minor
Natalie Call of Cody, Wyoming; biology major, psychology minor
Eleanor Carr of East Lansing, Michigan; biology and computer science majors
Hannah Durant of Grand Blanc, Michigan; English and mathematics majors
Payton Fleming of Olivet, Michigan; business major, computer science minor
Hana Frisch of Morton Grove, Illinois; biology major, anthropology and sociology minor, community and global health concentration
Tristan Fuller of Whitmore Lake, Michigan; business and English majors
William Fulton of Kalamazoo, Michigan; biology major, psychology minor
Zoe Gurney of Ann Arbor, Michigan; economics major, Chinese and mathematics minors, community and global health concentration
Lucy Hart of Evanston, Illinois; biochemistry major, psychology minor
Katherine Haywood of Hastings, Michigan; biology and computer science majors
Ian Hurley of Plymouth, Michigan; biology and Spanish majors
Ryan Johnson of Kalamazoo, Michigan; biology major
Koshiro Kuroda of Kawasaki, Japan; anthropology and sociology and music majors
Claire Kvande of Memphis, Tennessee; chemistry and physics majors, French and mathematics minors
Dillon Lee of Ada, Michigan; biochemistry major
Thomas Lichtenberg of Farmington, Michigan; philosophy and political science majors, mathematics minor
Alvaro Lopez Gutierrez of Lima, Peru; German and psychology majors
Nicholas Lucking of Dexter, Michigan; psychology major, English minor
Aleksandr Molchagin of Borisoglebsk, Russia; business and computer science majors
Matthew Mueller of Charleston, Illinois; psychology major
Erin Grace Murphy of Grosse Ile, Michigan; computer science major, music minor
Alexis Nesbitt of Parchment, Michigan; biology major, psychology minor, neuroscience concentration
Jenna Paterob of Melrose Park, Illinois; business and psychology majors, studio art minor
Harrison Poeszat of Commerce Township, Michigan; chemistry major
Ashley Rill of Rochester Hills, Michigan; biochemistry major, psychology and Spanish minors
Madeline Gehl Shroeder of East Grand Rapids, Michigan; computer science and East Asian studies majors
William Shaw of Kalamazoo, Michigan; computer science major, Japanese and mathematics minors
Emma Sidor of St. Charles, Illinois; psychology and Spanish majors
Sophia Sjogren of Chelsea, Michigan; computer science major
Alex Stolberg of Charlotte, Michigan; biology major, environmental studies concentration
Katelynn Stover of Troy, Michigan; psychology major
Suja Thakali of Kalamazoo, Michigan; chemistry major
Abhi Thaku of West Bloomfield, Michigan; chemistry major, mathematics minor
Mia Flora Tucci of Richland, Michigan; chemistry and Spanish majors, psychology minor
Oliver Tye of Gilbertsville, Pennsylvania; chemistry and mathematics majors
Elizabeth Wang of Portage, Michigan; biochemistry major, German minor
Katelyn Williams of Ada, Michigan; classical civilizations and psychology majors
Tony Yazbeck of West Bloomfield, Michigan; biochemistry major, anthropology and sociology minor
Nathaniel Zona of Albion, Michigan; biology major, community and global health concentration