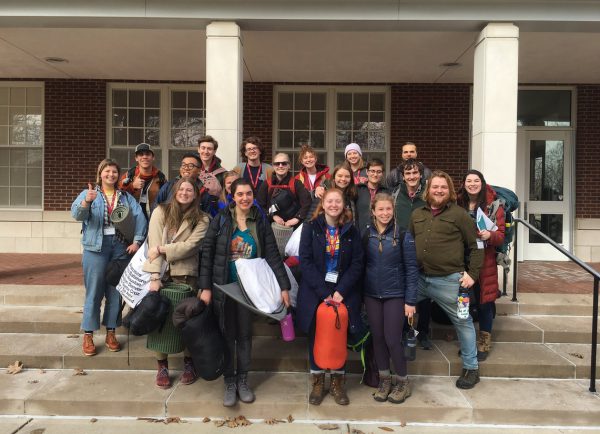 Adventures are common for Kalamazoo College student organizations, and one February adventure was notable for stirring Outing Club's devotions to pursuing outdoor activities and professions. The student group of 18 traveled to the eighth annual Midwest Outdoor Leadership Conference at Earlham College in Richmond, Indiana, where they affirmed K's standing among its peers as a leader in environmental education and met peers with similar passions from around the region.
The conference, conducted annually at a different higher-education institution each year, provides undergraduates interested in outdoor-recreation careers a chance to learn from each other while networking, developing their leadership skills and building new technical skills.
"To most of the colleges attending this conference, a small college has about 5,000 students," said Outdoor Programs Director Jory Horner, noting K's student body of just over 1,400. "Attending this program differentiates us as a liberal arts school because the students are keeping their interest in it alive by dedicating their time. Other colleges are blown away that this is something our staff can handle with just the ingenuity and resourcefulness of our students, who receive no academic credit for it."
All attendees are encouraged to serve as presenters during the outdoor leadership conference, including Riley Gabriel '21 and Matt Giguere '21, who presented on linking the principles of Leave No Trace, dedicated to leaving wild places the way others would like to find them, to everyday life. Kit Charlton '21 also was among K's representatives, and all of them noted how K stands out among schools attending the conference as a leader in environmental education.
"We have an emphasis on sustainability, plus comprehensive composting and a hoop house," said Gabriel, an English major with a concentration in environmental studies from Grosse Pointe, Michigan, mentioning just a few of K's environmental projects. "A lot of the programs we have undertaken aren't available at other schools."
Workshops over the conference's two days included lessons in best practices for hiking, diversity and inclusion in outdoor education, and methods for adaptive recreation activities such as rock climbing. The event fits well with the Outing Club's mission of providing K students with environmental awareness while teaching how to lead outdoor activities and wilderness trips.
"We've been very fortunate to have a committed group over the years," said Charlton, an English and critical ethnic studies major from Berkley, Michigan, referencing K's participation in seven of the conference's first eight years.
The Outing Club allows K students to continue where many leave off with LandSea, the College's outdoor orientation program offered to incoming students through Outdoor Programs. LandSea, conducted in Adirondack State Park in New York State, helps students meet their peers, gain self-confidence, earn a partial physical education credit and develop classroom skills, even before moving to campus. Outdoor Programs also offers wilderness trips over student breaks, outdoor-themed physical education classes, equipment rental and opportunities to learn wilderness first aid.
Horner "reminds us often of the differences between Outdoor Programs and Outing Club," said Giguere, a biology major from Portage, Michigan, who attended the conference for the second consecutive year. Outing Club "encourages other students by example to get outdoors, and the support we've had from LandSea and Student Development has been exciting."
Outing Club, Outdoor Programs and the Center for Environmental Stewardship will work together to extend the College's reputation for environmental education next February as they host the Midwest Outdoor Leadership Conference Feb. 7-9 at K. Although organizers have just started making plans, they say they will incorporate K's dedication to diversity, inclusion and social justice into their conversations.
"We're excited to draw on the resources we have at K to bring social justice ideas into the conference and view it through that lens," Charlton said.