Two student-athletes represented Kalamazoo College at the 2019 NCAA Convention in Orlando, Florida, earning an insider's look at the governance and maintenance of college sports.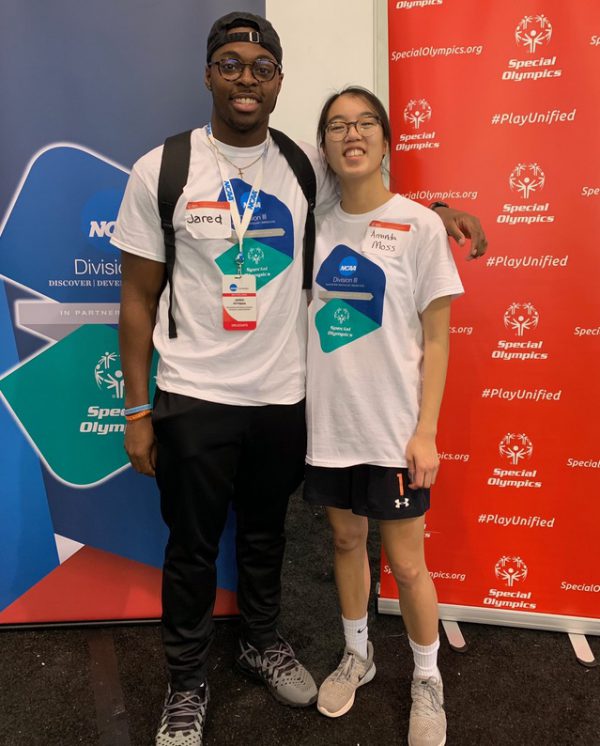 Jared Pittman '20 and Amanda Moss '19 attended business sessions with hundreds of athletes, athletic directors and college administrators from Division I, II and III schools around the country, including K Athletic Director Becky Hall. By attending these sessions and sharing their feedback with Hall, a voting member of the NCAA, they were able to have a voice in how rules affect Division III athletes' experiences.
Football coach Jamie Zorbo approached Pittman, a running back and captain on the football squad, about attending. Women's basketball coach Katie Miller recommended that Moss, a guard on Miller's team, attend. As leaders in their sports at K and as participants in the school's Athletic Leadership Council, Pittman and Moss were logical choices, especially as they hope their careers one day involve athletics.
"It was fascinating because the NCAA president [Mark Emmert] emphasized that [the organization] is a democracy," said Moss, who is also a midfielder for K's women's lacrosse team. "In addition to being informational, it was also a time for college representatives to interact and share best practices." For example, through Division III legislation proposed at the conference, representatives agreed to drop some social media restrictions for coaches and athletic department staff to better align Division III recruiting rules with those in Divisions I and II.
"The world of college athletics is much bigger than I thought it was," Pittman said of his experience at the convention. "It gave me a new-found appreciation for how rules and regulations are developed in college sports. It also gave me a bigger passion for all sports, because I interacted with athletes I wouldn't otherwise know, especially those from sports K doesn't have. Athletics can do a lot for young people."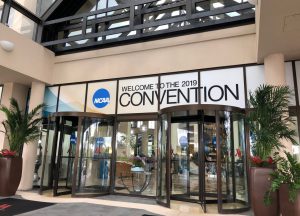 Pittman and Moss agreed an opportunity to network was their best benefit of attending at the convention.
"We were fortunate enough to travel in a group with other MIAA [Michigan Intercollegiate Athletic Association] athletes from schools like Calvin, Hope and Alma," said Moss, who also has prepped for a career in sports with an NBA internship and by serving as the president and co-founder of K's Sports Business Club. "It was enjoyable because we brought that K perspective, but heard from the schools we compete with each year. It was great because we attended business sessions during the day, and at night, we were able to explore Orlando."
"Honestly, we didn't talk about sports much," Pittman said. "It was more about character and how we improve our institutions, especially with Division III being about academic experience as much as athletics." In fact, he noted from his networking that K's student counseling resources such as the Counseling Center and efforts related to sexual-violence prevention through groups such as Green Dot are advanced when compared with its peer institutions. "It was really cool getting to know the delegates from other MIAA schools and developing friendships," Pittman said. I'm blessed to have the chance to attend K and compete in Division III. If I didn't, I probably never would have had the chance to attend the convention."
Read more about the 2019 convention and its news at the NCAA's website.