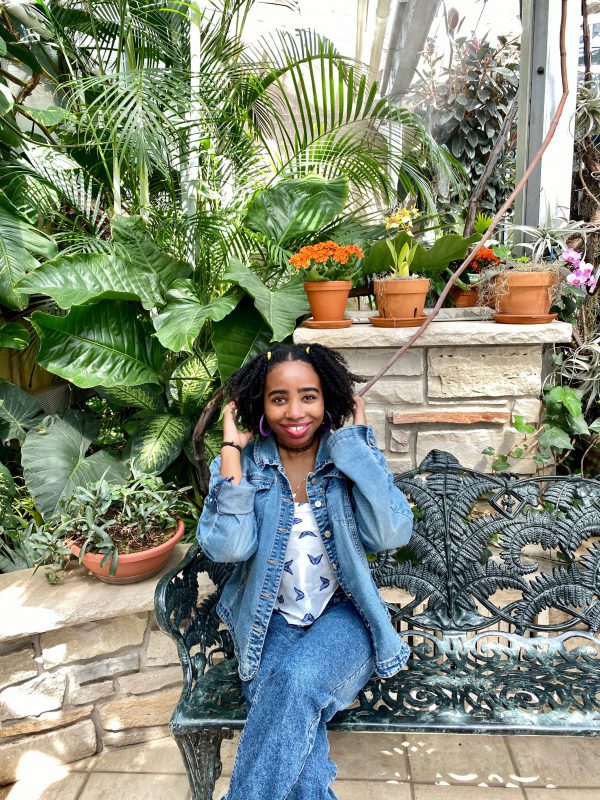 A Kalamazoo College student organization is showing local girls that they don't have to assimilate to anyone's standards to see themselves as beautiful.
Sister Circle, a supportive group dedicated to young Black women, reached out to local schools this spring to propose natural-hair programs and workshops that encouraged children to embrace their diversity and celebrate each other's distinctive appearance.
"I wanted to address some issues that we faced when we were children that weren't really addressed by our parents or our education system," said Udochi Okorie '22, who founded Sister Circle in her sophomore year. One of these issues is the pressure to conform to societal norms or standards that don't include or specifically ban natural styles.
"We felt natural hair wasn't socially acceptable and that can cause trauma for African American women," she said. "We wanted to get into the community and do an event for elementary, middle and high school students that centered around loving their natural hair. That was a dream of mine and we were able to do it this spring. We got such a great response from the community."
On campus, Okorie and other members of Sister Circle seek support from fellow women of color in a safe, affirmational place.
"We recognize there aren't a lot of spaces on campus where we're able to express ourselves, and not just because we're at a predominantly white college," Okorie said. "There have been higher-education spaces where we felt like we were ignored, undervalued or spoken over when we spoke up."
In coming together as Sister Circle and as a Black community, they have found affirmation that helps them navigate these challenging higher-education spaces. And now, they're taking that off campus to support the next generation through the Love Your Natural Hair Program.
Sister Circle members including Okorie contacted the Mary Jane Underwood Stryker Center for Civic Engagement, who introduced Sister Circle to local elementary schools El Sol and Woodward. When Sister Circle described their goals for a natural-hair program, school administrators jumped at the offer.
"Luckily, we had people who also experienced issues with beauty standards, whether they were people of color or just administrators who recognize the differences between their students," Okorie said. "A lot of people were really welcoming and said, 'Yes, I recognize that this is something we need at my school.'"
The issue of learning to appreciate natural hair has always been close to her heart and sharing that issue with Kalamazoo children has been rewarding.
"In the last workshop, we did some affirmations," Okorie said. "We talked about different types of hair and what products to use, which can be really hard when a lot of the products are not meant for your hair type. We talked about how to manage your hair and we drew pictures and asked the kids what they like about their hair. The students really enjoyed it and said it was effective, and we got a really big response from parents. During the event, I almost cried because of how the girls were responding and how their perception of their natural hair is changing."
Further, Okorie hopes that outreach will continue long after she graduates so more girls will know the appreciation for natural hair that she has and the self-confidence it's brought her.
"I hope Sister Circle and the Love Your Natural Hair Program are my legacy at K," Okorie said. "I want natural-hair appreciation to be something that's shared, especially in kindergarten through 12th grade, so every student can recognize the beauty of it."