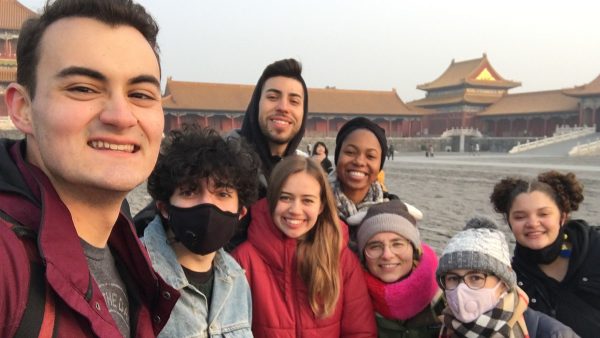 A Kalamazoo College representative is enhancing his skills in Chinese this summer through a U.S. Department of State Critical Language Scholarship (CLS).
Daniel Mota-Villegas '21 is among about 700 scholars currently in the CLS program, which actively recruits in regions that have been historically under-represented in international education. The opportunity enables those chosen to gain critical language and cultural skills in areas vital to U.S. economic competitiveness and national security.
Since 2006, CLS has awarded scholarships to more than 8,000 students while building respect and positive relations between Americans and citizens of other countries. CLS normally sends scholars to countries where they fully immerse themselves in the language of their choice, but the lingering effects of COVID-19 are requiring about 30 hours a week of virtual learning and cultural activities instead.
Nonetheless, "it's been a very rewarding experience and it's everything that I imagined it would be," Mota-Villegas said. "It's an intensive Chinese program that pushes me to expand on what I already know about Chinese language and culture. We learn upwards of 70 characters each day."
Mota-Villegas spoke Spanish in his home life growing up and never considered learning another language—and taking those opportunities to see the world—until he attended K. At that time, he enrolled in his first Mandarin Chinese class and developed a fascination with China, its society and its values. In his sophomore year, he learned about China's complex relationship with Taiwan, fueling his desire to study abroad and gain a deeper understanding of international relations.
In his study abroad experience, Mota-Villegas was among four K students in China in January 2020 when the pandemic began spreading, forcing students to return home early. However, he hopes to return to East Asia for an international master's program in Asia Pacific studies at National ChengChi University in Taipei, Taiwan this fall while examining the complex relationships between China, Japan and Taiwan.
"The opportunities to continue practicing Mandarin Chinese in Taiwan will be abundant," he said of his upcoming master's experience. "I will not have to be sitting in a classroom to study because I'll be outside, engaging with people in the community who have firsthand experience dealing with mainland China and Japan."
Mota-Villegas wants his experiences at K, with CLS and in his master's program to provide a springboard to a career in the foreign service, where he would promote peace, support prosperity, and protect American citizens while advancing the interests of the U.S. abroad.
"I'd be open to traveling anywhere," he said. "I love learning about languages and culture. My dream job would be to work in mainland China, Taiwan or anywhere else in East Asia. I'm fascinated with East Asia, with all its history and culture, and CLS is giving me more experience with all of them."