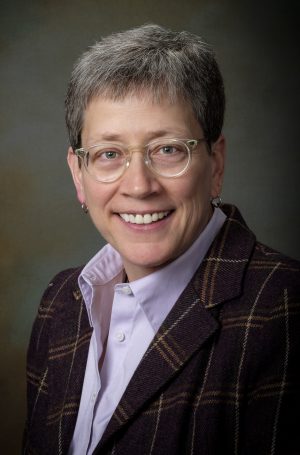 As Vice President and Dean of Students Sarah Westfall retires, Chief Information Officer Greg Diment '84 reflects on her legacy at K.
Nearly 15 years ago, Kalamazoo College welcomed candidates vying for the position of vice president of student development and dean of students. On one particular afternoon, a candidate stood in the Olmsted room, ready to give her presentation at an open forum to faculty and staff. Previous candidates had arrived with elaborate PowerPoints, standing formally at the podium to present. Yet this candidate came with a simple overhead transparency and a desire to connect. She walked up and down the aisle, approaching each questioner and answering their questions in proximity and with eye contact. She didn't have a high-tech presentation—in fact, I am pretty sure she commented that she wasn't a "techy" person. Instead, she was engaging, full of energy, and personable. After the interview, former President Wilson-Oyelaran asked me for my impressions. I remember saying simply, "Hire her. I'll take care of any technology she needs." And hire her we did.
Almost 15 years later, thousands of students have come and gone from K. Sarah Westfall has had an influence on all of them. Being the dean of students is hard. A dean sees and hears from some students at their toughest times—when they have made bad choices, or had extremely difficult experiences; when they feel vulnerable, or neglected, or have been wronged; when they are still developing, learning, not always understanding the big picture or how to effectively advocate for what they need. For all of these students, and for those who experienced the joys and exciting firsts of college, Dean Westfall was there.
It's easy to reflect on Dean Westfall's many accomplishments as a student affairs professional. At K, she has used her accreditation experience to significantly enhance K's capabilities in assessing student learning, and has partnered with the provost to ensure K's continued accreditation. She has been a member of and led several search committees for the College, participated in College-wide planning efforts, led K's crisis management team, and staffed the Risk Review committee of the Board of Trustees. K established many student advisory committees during her tenure, giving students an important voice throughout the College.
Dean Westfall has also published extensively in the field of student development, particularly in regard to small college environments. She is active in NASPA, the national association for student affairs administrators, and she was awarded their Pillar of the Profession award in 2019. She has served for several years on the Fulbright Senior Specialists Program Peer Review Committee and is currently on the Fulbright Specialist Roster. In 2018, she received the Distinguished Alumni Award from her doctoral program. Since 2008, she also has served as a Peer Reviewer and Team Chair for the Higher Learning Commission (HLC). She was recognized with an award from the HLC in 2019.
Yet as we congratulate her on her well-deserved retirement, her greatest achievements are summed up by the people whose lives she touched. I reached out to several alumni from throughout Sarah's time at K and the memories are sure: "She checked in on me and looked out for me and listened to what I wanted to do and made me feel really taken care of," said one. "She personally invested herself in my safety and my success," said another.
One alum noted, "For my part, I'd say that Dean Westfall is in many ways the perfect embodiment of K. She was a huge presence during my time there from orientation to graduation—I have distinct, warm memories of her from both. I know she helped me and everyone else transition smoothly into adulthood in more ways than we can ever really know or appreciate. Her job is one of the most difficult I can imagine. Lots of people have lots of ideas about how things ought to be done, so it's naturally impossible to please everybody—especially with a very involved student body—and she still seemed to handle everything with a sense of calm and reason and grace that is an inspiration."
Her peers are equally appreciative, describing her as a consummate professional, highly regarded in her field, dedicated, empathetic, insightful, humorous and a trusted colleague. Dean Westfall's door was always open to anyone needing support and advice.
I have had the privilege of serving on President's Staff for many years with Dean Westfall, and we've been through many situations together—perhaps none more challenging than the events of the last 18 months. As head of the crisis management team, Dean Westfall's leadership in navigating the pandemic was invaluable to the institution and to those who worked alongside her. As she "graduates" to retirement and future endeavors as a higher education consultant and coach, I know she will bring that same calm, caring and insightful leadership to others. And if she ever needs tech support, I will always be just a phone call away from my colleague and friend.