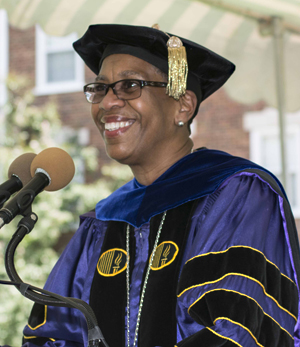 On any given day you can find a Kalamazoo College student playing ping pong, shooting baskets or serving up a hot meal at the Douglass Community Association.
A center for social, recreational and community development activities in the city's Northside neighborhood, the Douglass Community Association has served Kalamazoo residents for nearly 100 years.
"For decades, I've watched Kalamazoo College students come by the bus full to volunteer at the Douglass," says Dr. Charles Warfield, president of the Metropolitan Kalamazoo branch of the National Association for the Advancement of Colored People (NAACP). "As a more than 70-year resident of Kalamazoo, I have consistently seen Kalamazoo College support the efforts of the black community and be front runners in the area of social justice."
Each week during the academic year, many of the more than 100 K students who work in the local community through service-learning courses or co-curricular programming coordinated by the College's Mary Jane Underwood Stryker Center for Civic Engagement head to Kalamazoo's Northside Neighborhood, home to many members of the city's black community. K students work with teachers and elementary age students at Woodward School and with families who are part of Community Advocates for Parents and Students (CAPS), a grassroots organization that provides tutoring services to children residing in the Interfaith Neighborhood Housing community. Since its founding in 2001, K's Center for Civic Engagement, through service-learning courses and student-led programs, has engaged more than 6,500 K students in long-term, reciprocal partnerships to foster academic learning, critical problem-solving, and a lifetime of civic engagement while strengthening the Kalamazoo community.
This long-standing community partnership, in addition to the work of Kalamazoo College President Eileen B. Wilson-Oyelaran, Warfield says, contributed to the recognition of both the College and its president with the Vanguard Award at the NAACP's 35th Annual Freedom Fund Banquet.
The Vanguard Award honors an organization or group of people whose forward thinking has significantly affected the lives of all people, and specifically people of color in Kalamazoo. Past recipients include the City of Kalamazoo, Sid Ellis and the Black Arts and Cultural Center, and the philanthropists of the Kalamazoo Promise.
"We have outstanding people in our midst who make it their business to make a difference in the lives of those in need," Warfield says. "We need to honor organizations and people who invest so unselfishly in our community to make this a better place to live now and for the future."
During President Wilson-Oyelaran's 10 years at the College, she has worked tirelessly, Warfield asserts, in the name of social justice.
"Kalamazoo College has always been one of the bright lights of social justice," he says. "Dr. Wilson-Oyelaran stepped in and didn't miss a beat. I can't think of anyone or anyplace more deserving of the Vanguard Award."
During her tenure at the College, President Wilson-Oyelaran has helped the College make its campus and educational experience more diverse—increasing the number of first generation, low-income, international and domestic students of color who study here.
President Wilson-Oyelaran's commitment to social justice and leadership development, however, may be most evident in the creation of the Arcus Center for Social Justice Leadership (ACSJL), a formal program that integrates the academic experience with social justice activism geared toward helping students make communities and the world more equitable for all.
The ACSJL, opened in 2009, supports initiatives proposed by students, staff and faculty; provides forward-thinking programming; offers fellowships for emerging and veteran social justice leaders; and hosts annual signature events with global reach.
"I am incredibly humbled and honored to receive the Vanguard Award and accept it on behalf of Kalamazoo College," says President Wilson-Oyelaran. "It is really gratifying to have the community recognize the many years of investment in the Kalamazoo community by our faculty, staff and students and to take note of the College's efforts to become a more diverse and inclusive community."
The NAACP's 35th Annual Freedom Fund Banquet was held November 7, 2015 at Western Michigan University's Bernhard Center.
Article by Erin (Miller) Dominianni '95; photo by Keith Mumma