The Andrew W. Mellon Foundation has awarded Kalamazoo College a three-year, $100,000 grant to support presidential initiatives including its institutional strategic planning process.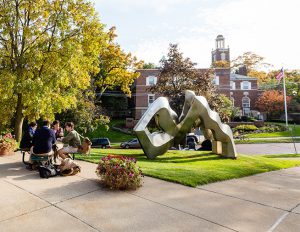 Kalamazoo College, under President Jorge G. Gonzalez, has begun a strategic planning process that will address some of the greatest challenges and opportunities facing the institution. Referred to as K in Five, the process is coordinated by a planning committee appointed in March 2017. The committee includes faculty members, students, alumni, administrators and staff. The committee has begun gathering input through a number of on-campus forums as well as electronic surveys.
The committee, supported by The Clarion Group, will synthesize these results with an objective of producing a strategic plan to be vetted by a number of stakeholders before being offered to the College's Board of Trustees for approval in March 2018.
Previous Mellon grants to Kalamazoo College have supported curricular initiatives such as the Shared Passages seminar program and the development of a critical ethnic studies major.
"The Andrew W. Mellon Foundation is an invaluable strategic partner to liberal arts colleges such as K," Gonzalez said. "Their support and guidance enables us to better engage across our institution in responding to issues including the macroeconomic forces impacting liberal arts colleges, fostering greater diversity and collaboration within our faculty ranks, and supporting effective teaching and scholarly communication."