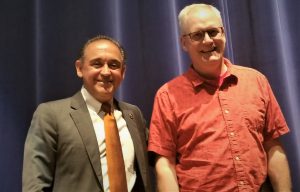 Kalamazoo College announced today that one faculty member and one staff member have earned two of the highest awards the College bestows on its employees.
Jeff Bartz, K's Kurt D. Kaufman professor of chemistry, will receive the 2020 Florence J. Lucasse Lectureship for Excellence in Teaching, and Bruce Stack, an electrician in facilities management, will receive the inaugural W. Haydn Ambrose Prize for Extraordinary Service.
Bartz joined the K Chemistry Department as an assistant professor in 1997 and became a full professor in 2011. He teaches courses in physical and general chemistry, chemical composition and structure, and chemical reactivity. He also works with K students in the research laboratory in the area of chemical dynamics.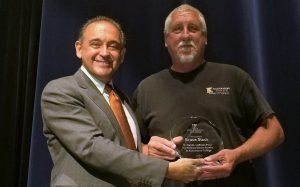 Bartz earned a bachelor's degree in chemistry with a minor in mathematics from Southwest Minnesota State University in 1985. He earned a Ph.D. in physical chemistry from the University of Wisconsin-Madison in 1992.
The Florence J. Lucasse Lectureship (for outstanding classroom teaching) and Fellowship (for outstanding achievement in creative work, research or publication) at Kalamazoo College were established in 1979, and Bartz is the 31st recipient of the lectureship. The awards were created to honor Florence J. Lucasse, a 1910 alumna, in recognition of her long and distinguished career and in response to the major unrestricted endowment gift given to the College in her will.
The W. Haydn Ambrose Prize was established to recognize a K staff member for outstanding service to the Kalamazoo College community.
The award is named after W. Haydn Ambrose, who served K for more than 20 years in a variety of roles, including assistant to the president for church relations, dean of admission and financial aid, and vice president for development. Ambrose was thoughtful in the projects that he took on, committed to the jobs that he agreed to do, and he treated people with respect.
In addition to a financial award, Stack has earned:
A crystal award to commemorate the achievement
An engraved brick in a section at the top of the stairs of the athletic fields complex
An invitation to sit on the award's selection committee for two years
Stack has worked at the College for more than 28 years. His colleagues note that his extensive experience, troubleshooting abilities, and proven analytical skills have made him invaluable in addressing physical plant needs in emergency and day-to-day maintenance.