Ada "Tish" Loveless has added to her enduring legacy as the founder of women's athletics at Kalamazoo College.
A year after her death, a gift Loveless made to Kalamazoo College through her estate plan will fund a new endowed scholarship in the name of Marilyn Hinkle '44, her lifelong friend who died in 2007. The scholarship will go to women studying visual arts or music – passions of Hinkle, who in addition to being an alumna was a member of K's staff for more than 30 years.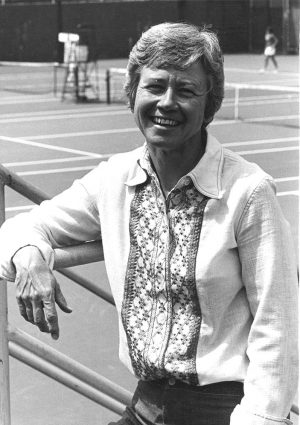 The planned gift also more than doubles the size of the existing Tish Loveless Women's Athletic Endowment, which began with a 2007 gift from one of Loveless' former students, Elaine Hutchcroft '63. It supports the day-to-day operations of the College's nine women's athletics teams.
Loveless, who died in November 2016, served as director of women's athletics from 1953 until she retired in 1986. Before her arrival, there were no women's intercollegiate athletic teams at Kalamazoo College. During her tenure, she established women's varsity teams in tennis, field hockey, archery, swimming, basketball, volleyball, soccer and cross country, as well as a number of intramurals, sometimes mastering the details of unfamiliar sports in order to provide her students with the opportunities they requested.
She was the most successful coach of women's teams in the history of the Michigan Intercollegiate Athletic Association, the oldest athletic conference in the country. Her teams won 28 league championships: 23 in tennis, four in archery and one in field hockey. Her 1986 women's tennis squad finished third in the nation.
In 1992, Kalamazoo College inducted her into its Athletic Hall of Fame and, in 2015, dedicated the Tish Loveless Court at the Anderson Athletic Center to honor her legacy.
President Jorge G. Gonzalez said Loveless' gift emphasizes her already hallowed place in the history of the College, and demonstrates how a planned memorial can extend that recognition to the people and things the donor most cherishes.
"Tish led the way for women at Kalamazoo College to become full participants in the athletic program, and her name will be forever remembered through the endowment that supports those teams," he said. "Now, through her planned gift, she has also ensured that her dear friend will be remembered, as well. Generations from now, K will know, and appreciate, the legacy of Marilyn Hinkle as well as of Tish."
For more information about how to make a gift to Kalamazoo College in your estate, please contact Senior Associate Director of Planned Giving Matthew J. Brosco at Matthew.Brosco@kzoo.edu or 269-337-7288.