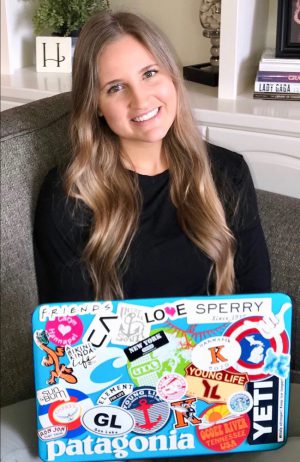 Collaboration is one of the great experiences in higher education, and Kalamazoo College's Learning Commons empowers it. By hiring students who have distinguished themselves in academics or library research, the Commons allows students to share their strengths and benefit from peers.
"That feeling of being shoulder to shoulder is one of the most valuable things we provide," Learning Commons Director Bela Agosa said. "Learning isn't meant to be a solo activity. Otherwise, we wouldn't come to a college."
Despite a term in distance learning, away from the Learning Commons' physical location in the library, that collaboration continues. When students need assistance this spring, they meet securely online with Learning Commons peer consultants through any computer or mobile device with an up-to-date browser. And Agosa wants students to have confidence in that experience.
"It's still the same people," Agosa said of the Learning Commons peer consultants. "Distance learning has imposed some restrictions. But overall, we still provide the same great service. Our consultants are committed and worked hard over spring break to learn the new system.  It showed me that the Learning Commons would be up to par this term."
Examples of services available through the Learning Commons include:
"Our aims as a Writing Center have not changed," Agosa said. "The way we approach our services has not changed. We're still here as a sounding board for writers and we still support students with math, physics and more. Our peer consultants are very dedicated and we believe in the work they do."
Writing Center and English as a Second Language appointments are available by logging in at kzoo.mywconline.com. Learn how to make a Math-Physics Center appointment at its website. Email the reference librarians at reference@kzoo.edu for assistance from the Research Consultant Center. For assistance from the Center for New Media Design, email Graphic/Multimedia Designer Kathryn Lightcap at kathryn.lightcap@kzoo.edu.