The Festival Playhouse of Kalamazoo College production of the Tony award-winning musical "Fun Home" will be presented at the Region III Kennedy Center American College Theater Festival (KCACTF) in Indianapolis in January, preceded by an encore performance at the College's Dalton Theatre.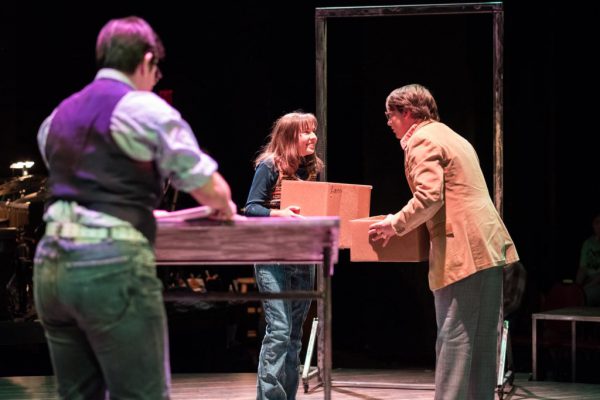 In November, K staged the college premiere of the musical, based on a graphic novel by Alison Bechdel and co-written for the stage by Jennifer Tesori and Lisa Kron '83. The Broadway production won the Tony Award for Best Musical of 2015; Kron and Tesori shared a Tony for Best Original Score; and Kron won for Best Book of a Musical.
A panel of college and university theater professors from around the Midwest chose the Kalamazoo College production of  "Fun Home" as one of seven from a list of 21 in Illinois, Indiana, Michigan, Ohio and Wisconsin that it considered for invitations to the festival. Ed Menta, the Kalamazoo College James A. B. Stone professor of theatre arts, called it a great – and rare – honor.
"This is only the fourth time in my 32 years at K that we've been invited to perform at this festival," said Menta, adding that three of those plays were written by two alums: Kron and Joe Tracz '04, whose "Allison Shields" was invited in 2011 and "Phenomenon of Decline" in 2006. Kron herself acted in a prior invitee, "El Grande de Coca Cola," in 1984.
"We're honored, thrilled and proud, especially on behalf of our students," said Menta.
Adding to the honor, he said, KCACTF chose "Fun Home" to be the closing presentation of the festival, with performances at 1:30 and 8 p.m. Saturday, Jan. 13, 2018, at the University of Indianapolis' Ransburg Auditorium.
Though the play – a compelling portrait of a lesbian woman's relationship with her gay, closeted father – was challenging to stage, "All of our students rose to the occasion," said Menta, adding that he hopes the exposure the musical receives at the festival will encourage other colleges to produce it.
College troupes that perform at the festival must cover their travel expenses, and to defray the cost, the 45-member cast and crew of "Fun Home" will present a fundraising performance at 7:30 p.m. Monday, Jan. 8, at Dalton Theatre, with tickets available to the public at a suggested donation of $15 each.
For reservations, please visit https://festivalplayhouse.ludus.com/index.php.