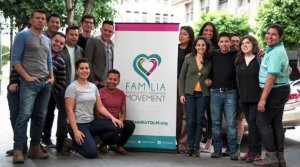 Familia: Trans Queer Liberation Movement (Familia), the only LGBTQ Latino organization in the United States that focuses on racial justice through a trans and queer lens, is the winner of the 2015 Kalamazoo College Global Prize for Transformative Social Justice Leadership.
Familia was formed with a mission to work at the national and grassroots levels to achieve the collective liberation of LGBTQ Latinos and their families by leading an intergenerational movement through community organizing, advocacy, and education.
Jennicet Gutierrez, an organizer with Familia, was humbled by receiving K's Global Prize.
"It's an honor to work on behalf of the undocumented immigrants who are suffering," they said. "We'll work tirelessly to stand up for the dignity of these brave people."
The Global Prize, the second such award given since the biennial competition was born in 2013, was announced Saturday evening. It came after a two-day competition where the 10 finalist organizations engaged in social justice work from around the globe presented their projects to a panel of judges comprised of social justice advocates from Kalamazoo College, the local Kalamazoo community, the United States, and abroad.
Mujeres Lucha y Derechos Para Todas A.C. (MULYD), "Women, Struggle, and Rights for Everyone," a Mexican-based organization that works to educate and empower indigenous women about health and reproductive rights, and The Association of Injured Workers & Ex-Workers of General Motors Colmotores (ASOTRECOL), a group working to draw attention to the plight of employees injured at a GM plant in Colombia, each won an Audience Choice Award of $2,500 each.
Jorge Gutierrez, national coordinator with the Los Angeles-based Familia, said the $25,000 prize, awarded by K's Arcus Center for Social Justice Leadership, would help Familia sustain its current work and grow its influence into much needed areas.
"I am a mixed bag of emotions," said Gutierrez. "All of us who do social justice work deserve resources, and we are grateful for this prize. We don't take this lightly. We would continue doing what we're doing if we had won or not."
The organization's work extends across the nation, including several Western states, Massachusetts, New York, and Pennsylvania. They are looking to enter the Midwest and many southern states as well, which the prize money will help them do – among other things, Jorge Gutierrez said.
"We can now pay some volunteers, and devote our energies in areas we've always wanted to," he said, adding some of the money would be given to the MULYD group, with which Familia is planning to collaborate.
All ten finalist groups were awarded a plaque in recognition of their work by Kalamazoo College President Eileen Wilson-Oyelaran.
"We've spent 48 hours together, and come to appreciate each other in deep ways," she told members of the ten finalists. "We here at the College are touched by your collective work. Know that you are loved, affirmed, and empowered."
Lisa Brock, academic director of the Arcus Center, gave a closing remark to finalists.
"When we began this in 2013, it was never about competition," she said. "It was a way to get all of you amazing people here and to lift you up, praise you, and say we are in solidarity with you."