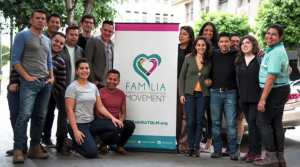 Kalamazoo College has announced the ten finalists for its 2015 Global Prize for Transformative Social Justice Leadership, a juried competition hosted by the College's Arcus Center for Social Justice Leadership. Finalists will present during a Prize Weekend, Oct. 9-11, and one project will receive a $25,000 prize. Below is one in a series of profiles on the ten finalists.
We invite individuals who are familiar with this project to use our Community Input form to comment on its "grass rootedness" and transformative leadership practices. Input received before September 8 will be submitted to our jurors. Please see videos submitted by each finalist, as well as our rubric and other information about the Global Prize here
Familia: Trans Queer Liberation Movement
Living in the shadows of society. Fearing deportation. Unable to fully immerse in American life. The anxieties experienced by many undocumented immigrants in the United States are real. But for those who identify as LGBTQ, the fear and struggle is sometimes much greater.
Those undocumented LGBTQ members finding themselves in immigration detention centers in the United States often face sexual harassment and mistreatment at the hand of their captors, and abuse from fellow inmates, said Jorge Gutierrez, national coordinator with Familia: Trans Queer Liberation Movement. Many of these people come to the U.S. fleeing persecution and seeking asylum and support, only to find themselves locked-up.
"We want to see all LGBTQ people in detention centers released," he said. "Detention centers can be incredibly dangerous places for these people. They are stripped of their humanity, their medical care. Many are HIV positive and need drugs for that. ICE [Immigration and Customs Enforcement] may use solitary confinement to protect them, but that has negative psychological effects. This is happening on a daily basis. Ultimately, we're seeking to end all detentions."
Familia: Trans Queer Liberation Movement was formed in Los Angeles in 2014 with a mission to work at the national and grassroots levels to achieve the collective liberation of LGBT Latinos and their families by leading an intergenerational movement through community organizing, advocacy, and education. It is the only national LGBTQ Latino organization that focuses on racial justice through a trans and queer lens.
The organization's work extends across the nation, including California, Washington, Arizona, Utah, Colorado, New Mexico, Massachusetts, New York, and Pennsylvania. They are looking to enter several Midwest and southern states.
Another component of the organization is to help the families of those who come out as LGBTQ, providing safe spaces where parents and others can find mutual support to sort out any pain or confusion relating to a loved one coming out. The support garnered in those meetings can then extend out to Latino immigrant communities, growing understanding of LGBTQ Latinos and the challenges they face, Gutierrez said. This support can also help them realize there is a mutual social justice struggle between them – the right of undocumented residents to safety, self-determination, and to provide for their families, as well as the right of LGBTQ Latinos to be supported and protected in who they are.
"When I was 16, my mom asked me if I was gay," he said. "I told her I was, and she said she loved me and wanted to protect me. That helped me develop self-esteem and a self-dignity that has helped me make healthy decisions through my life. We want that for all LGBTQ Latinos."