Kalamazoo College has announced the ten finalists for its 2015 Global Prize for Transformative Social Justice Leadership, a juried competition hosted by the College's Arcus Center for Social Justice Leadership. Finalists will present during a Prize Weekend, Oct. 9-11, and one project will receive a $25,000 prize. Below is one in a series of profiles on the ten finalists.
We invite individuals who are familiar with this project to use our Community Input form to comment on its "grassrootedness" and transformative leadership practices. Input received before September 8 will be submitted to our jurors. Please see videos submitted by each finalist, as well as our rubric and other information about the Global Prize here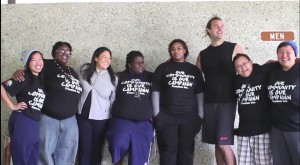 Freedom Inc.: Our Community Is Our Campaign
Trust in people.
That's the idea that the leadership of Freedom Inc. had when looking at ways to lift up the community members they were trying to empower in Madison, Wisconsin, and is summed-up well in the moniker for an ongoing project helping Black and Southeast Asian transgender and gender non-conforming folks: "Our Community Is Our Campaign."
"The traditional model of mainstream social justice groups is to focus on the issues first and the people second," said M Adams, co-executive director of the group. "For us, it's not issues first, it's people first."
FI is a grassroots collective of inter-generational Black and Southeast Asian women queer folks, and youth whose work is to end violence (both interpersonal and systemic) within and against low-income communities of color. That includes a large contingent of Hmong people living in the Madison area, Adams said.
Members of that ethnicity who are transgender or gender nonconforming need special help; the Hmong don't even have a word for being trans, not to mention some have trouble with English, Adams said. Black folks who are trans or gender nonconforming also need some special assistance, having to deal with the legacy of racism, or being shunned by their families, in addition to how they personally identify.
"This (the trans and gender nonconforming) movement is a relatively young one here," Adams said. "Many Hmong are here as a result of secret wars in 1970s and 80s. What does it mean for them to build a movement? How does the broader society relate or understand their leadership? It's a unique challenge.
For Hmong women and queer folks operating in their patriarchal system, organizing themselves and taking leadership is a big thing. For the black community, it's a challenge for us, too, on how to build a new black liberation movement that also centers those who are often shunned even by their own racial community, like trans folks. I'm working with people at the margins, in the margins."
Freedom Inc. works directly with 300 low-income folks of color a year, working on culturally specific intimate partner services, gender justice organizing, political education and leadership development and direct action. Programming designed for youth and older folks alike seek to help them realize that their socioeconomic, racial and other struggles tie them to others around the world suffering the same kinds of injustices. It's a way, Adams said, of building community across the globe.
"We're working on building a world where we can live as our full selves," Adams said.