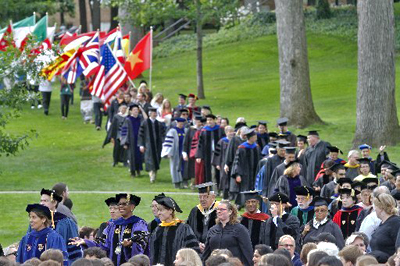 Kalamazoo College kicks off the 2015-16 academic year on Wednesday Sept. 9 at 3:00 p.m. with its annual opening convocation ceremony for new students.
The ceremony will take place on the campus Quad and be available via live streaming. In case of rain, the ceremony will move into Stetson Chapel.
President Eileen B. Wilson-Oyelaran, Provost Michael McDonald, Dean of Students Sarah Westfall, Chaplain Elizabeth Candido '00, faculty, staff, and student leaders will welcome new students and their families. Nike Foundation Partnerships and Communications Manager Tieneke vanLonkhuyzen '06, from Portland, Oregon, will deliver the keynote address.
K will welcome 367 first-year students (including 30 matriculating international students), 18 transfer students, and 28 visiting international students. New students come from 29 states within the United States of America including Oregon, Florida, Maine and Texas, and from 23 countries including, Japan, Ecuador, Greece, Vietnam, and Sierra Leone. Students of color from the U.S. make up more than 25 percent of the incoming class.
Eleven members of the incoming class of 2019 are the first "Kalamazoo Promise Eligible" students to attend K. Through a partnership announced in June 2014 by The Kalamazoo Promise and the 15-member Michigan Colleges Alliance (MCA), eligible Kalamazoo Public School (KPS) graduates enrolling at an MCA member institution will receive free tuition and fees. The Kalamazoo Promise, now in its tenth year, was established by anonymous donors who pledged to provide free college tuition and fees for KPS graduates attending 43 state universities and community colleges in Michigan. With the addition of the 15 MCA liberal arts college members, Michigan 58 institutions are now Kalamazoo Promise eligible.