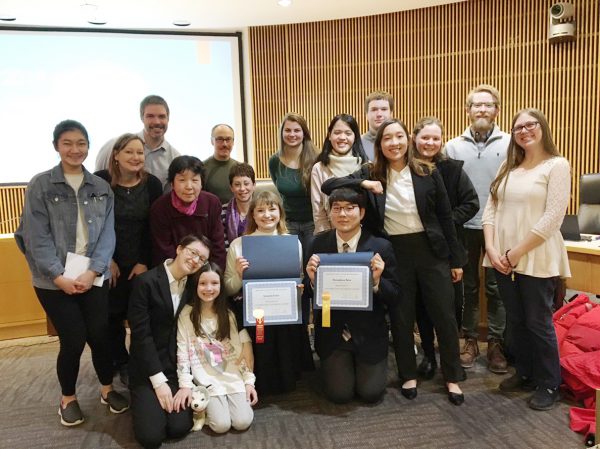 Out of dozens of college and university students who applied this year, four Kalamazoo College students were invited to participate in the 23rd Michigan Japanese Language Speech Contest, a record for any college or university in the competition's recent history, with two finishing among the top three competitors.
The contest, organized by Detroit's Consulate General of Japan, offered 10 students from Michigan colleges and universities the opportunity to showcase their language abilities in the finals through self-made speeches delivered entirely in Japanese at the Novi Civic Center. K's representatives have all been students in Associate Professor Noriko Sugimori's third-year Japanese language class.
Sugimori noted a snow day prevented Amanda Esler '19, YoungHoon (Richard) Kim '19, Molly Brueger '19 and Elayna Moreau '21 from having their final dry run for the event. However, "the students worked hard and other students of Japanese also supported them in various ways," Sugimori said, crediting her second-year Japanese language class, which developed questions about the speeches for the competitors to answer. Some even went to Novi to support their peers. "I am proud of everyone," Sugimori said.
No K student had ever finished higher than third in the Japanese Language Speech Contest, until Esler finished second with her speech titled "The Importance of Friends." The speech described how she turned a difficult study abroad experience into something special through the help and encouragement of her friends.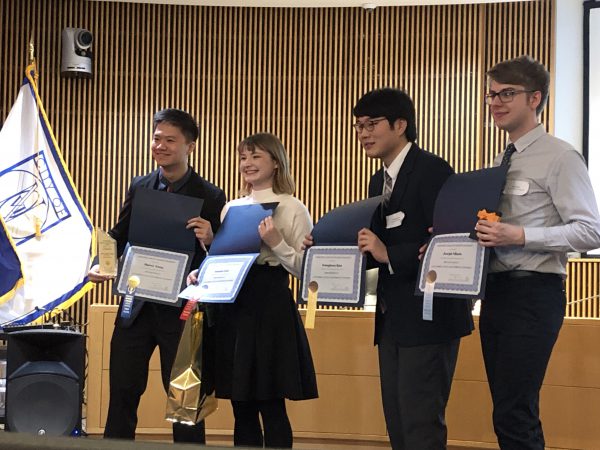 "Personally, I love public speaking," Esler said. "The fact that through your words you can inspire or encourage someone is amazing. And in this contest, it wasn't in English, but rather Japanese, a language that I have spent nine years of my life learning. It was such an honor and a privilege to be able to compete and share my thoughts and experiences in Japanese."
Esler said her K experiences inspired her speech, including the support she received from Sugimori and a close friend, Naori Nishimura, who was a visiting international student from Japan.
Without them, "I wouldn't have studied abroad in Kyoto and none of the events in my speech would have occurred. So, this is really thanks to K. … I hoped to show just how much that bond [with Nishimura] meant to me."
Kim delivered a speech titled "Shape of Japan" and won third prize, giving K a second representative among the place-winners for the first time. He spoke about his study abroad experience in Japan and articulated his deep appreciation for the country. In his view, his appreciation for Japan can't be fully expressed in words.
"It was an honor for me, as a student who studies Japanese," to participate in the contest, Kim said. "It meant that I am able to perform a public speech, openly expressing my thoughts and remarks on a suggested topic, through using a language that I did not know before. … It was only possible because I had an amazing faculty member and brilliant students who spent time with me."
Brueger, in her speech titled "Breaking Barriers," talked about how soccer empowers participants to break language barriers and make new friends, leading to greater cross-cultural understanding.
"This was an opportunity for me to feel confident about my Japanese language skills and to compete in a fun environment with other students who share an equal love for Japanese language and culture," Brueger said.
Moreau delivered a speech titled "The Power of Communication" about their experiences working at Osaka Suisen Fukushikai's Work Center Hoshin, a day care center in Osaka, Japan, for adults who have intellectual disabilities. The speech focused on how staff and clients communicated and how their experience can help interactions between people in general.
"When I worked with them, I got to experience their efforts to communicate and understand each other firsthand," Moreau said. "No matter what mistakes I made or how troublesome it was for them to try to talk to me, staff and clients alike always made the utmost effort to include me in their conversations, events and work. They were so patient with me even when they didn't need to be, and I quickly grew to admire everyone at the Work Center. I wanted to express this admiration in my speech, to express how amazing everyone at the center was. In some way, I wanted this speech to be some small 'thank you' to them."