As many as 1,000 alumni from around the nation and world will gather on the Kalamazoo College campus Friday-Sunday for K's annual Homecoming.
Topping the list Friday night will be the annual Distinguished Alumni Awards and Athletic Hall of Fame Inductions. And Hornet Pride will be on display at football, men's soccer and women's soccer games on Saturday, alumni volleyball, softball and baseball games on Friday and an alumni swim meet and 5k Run/Walk on Saturday.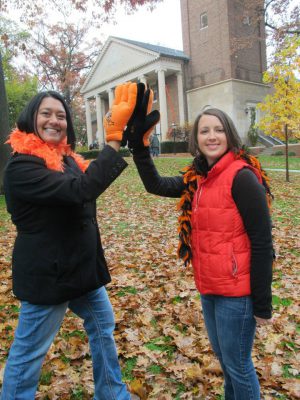 Also among the Friday-Sunday events:
Reunions of the classes of 1967, 1972, 1977, 1987, 1992, 1997, 2002, 2007 and 2012. There is also an informal gathering for the class of 2017.
Receptions and gatherings for groups including LandSea alumni, 1833 Society Young Alumni, Alumni of Color, the Emeriti Club, theatre arts alumni and athletics teams, plus a chance to socialize with faculty and staff in departmental receptions throughout the Weimer K. Hicks Student Center on Saturday morning.
Guided campus tours and opportunities to visit new facilities including the Fitness and Wellness Center, the Intercultural Center, the Hornet Golf Lab and revamped weight room at Anderson Athletic Center and the Batts Pavilion at the College's Lilian Anderson Arboretum.
A student film festival, performances by Monkapult and Cirque du K.
A chance to sip hot chocolate and reminisce about campus experiences at Story Zoo around the Cavern Fire Circle next to Stetson Chapel.
Poetry readings honoring the late Conrad Hilberry, K's former poet laureate.
Gatherings where alumni can offer advice and compare notes with current students.
Fun, games and treats with the Fresh Food Fairy.
You can still join the fun and renew connections with your classmates. Visit our homecoming website for a full schedule, details and registration information. And watch the College website, Facebook page and Twitter account (@kcollege) for photos and updates throughout the weekend.