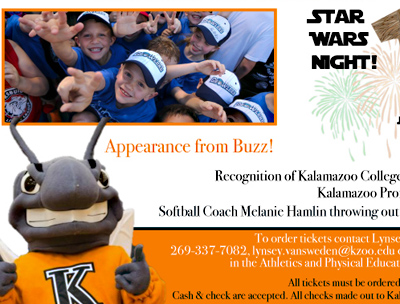 Kalamazoo College poet (and professor emeritus of English) Conrad Hilberry once wrote a poem about kids playing sandlot baseball, noting that, after a hit, the run from home to (hopefully) home again was counterclockwise—in other words: against time, a circle-sprint (maybe even ending in a dramatic slide) in the general direction of that magical place called when-we-were-younger.
Well, dust off your old baseball hat, it's time for some time travel and everything else associated with an evening at the ballpark.
Kalamazoo College, and the Kalamazoo Growlers baseball association, presents "K Night" at Homer Stryker Field (undoubtedly the most aptly named baseball park in the country!) on Friday, July 17, at 7:05 p.m. And to throw in a little mythology to go with all that poetry, "K Night" activities include Star Wars Night and a raffle of Chewbacca-themed jerseys. Whoopee! Or, should we say: WOOKEE!
At the game, the College's first class of Promise students will be introduced. And, speaking of firsts, the first pitch will be thrown by Kalamazoo College head softball coach Melanie Hamlin, the four-year collegiate standout from the University of Redlands. (After that first pitch, we wouldn't be surprised if the home team asks her to stay on the field.)
Fireworks follow the game, and tickets ($12) include a new Growlers hat, which means you can throw out the old one you dusted off, or start a collection.
Bring your friends and family to support both Kalamazoo College and the Kalamazoo Growlers.
To get your tickets contact Lynsey VanSweden (269.337.7082) in the Athletic and Physical Education office. Last day to purchase tickets is Friday, July 10. Cash or check is accepted. Go Hornets! Go Growlers!