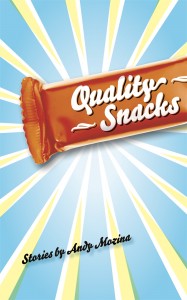 Kalamazoo Gazette/MLive Book Reviewer Yvonne Zipp reviewed "Quality Snacks," a new collection of short stories by Kalamazoo College Professor of English Andy Mozina. "Mozina's characters come to wry, melancholy insights that don't help them improve their lives, but endear them to readers," she says.
Mozina will read from his new book and sign copies on May 14 at the Hicks Center Banquet Room at K from 6 to 8 p.m.
He'll be part of "More in an Evening," a celebration of four Kalamazoo College faculty authors, hosted by the K Bookstore. Mozina will be joined by Professor of English Bruce Mills, who will read from his 2014 memoir about his family's journey with autism, "An Archaeology of Yearning"; Professor of English, Emerita Gail Griffin, who will read from her book, "The Events of October: Murder-Suicide on a Small Campus"; and Professor of Physical Education and Head Coach of Volleyball Jeanne Hess, who will read from her 2013 book, "Sportuality: Finding Joy in the Games."
The event is free and open to the public.