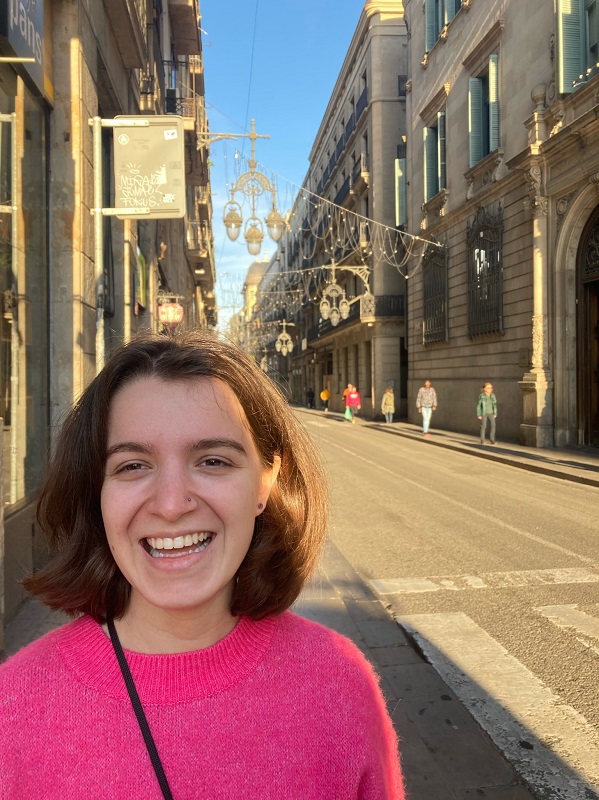 Just when it seemed Julia Bienstock '22 had missed her last chance for a study abroad experience through Kalamazoo College, she has received a great honor in being named a selectee for the Fulbright U.S. Student Program.
That opportunity means she will serve in an English Teaching Assistantship (ETA) at IE University in Madrid, Spain, leading to a dream come true and an academic year abroad.
"It has been a very emotional few months, but I'm so excited to be going to Spain," Bienstock said. "At K, I critically thought about pedagogy in my academic endeavors and I can't wait to keep doing that in an international context. Spain has some unique festivals and traditions throughout the year that I'm so thrilled to take part in as well."
Since its inception in 1946, Fulbright has provided more than 380,000 participants with opportunities to exchange ideas and contribute to solutions to shared international concerns. The program is funded by an annual appropriation from Congress to the Bureau of Educational and Cultural Affairs and managed through the U.S. Department of State.
Bienstock is joining four other recent K alumni who are among about 1,900 students, artists and young professionals who will represent the U.S. through Fulbright in about 140 countries this year. Chosen for their academic merit and leadership potential, participants serve at primary and secondary schools or universities overseas.
Bienstock first desired a study abroad experience in Valparaíso, Chile, but a political revolution there forced the program's cancellation just before her junior year, which is when most K students go overseas. Cáceres, Spain, was her second choice, although COVID-19 stifled that opportunity.
With dwindling optimism, a Fulbright scholarship seemed to be her last chance, and initially, she was named an alternate to the program. In other words, she was not among the initial selectees and she would have to wait to see whether an opportunity opened.
"My recommenders and peers were confident that I was going to Madrid, which boosted my ego before I received the news that suggested otherwise," Bienstock said. "I tried to remind myself that there were only four spots at the IE, and getting alternate status was something that I should take pride in."
Months passed by and Bienstock tried to forget about her status, even though she still wasn't necessarily rejected.
Then, Bienstock received an unexpected email from Fulbright last month. The email contained word that an opportunity had opened and it was hers if she wanted it. She initially considered not going because she had recently accepted a job as a paralegal in Detroit, where she also used her Spanish skills. Yet ultimately, Bienstock decided she needed to make the best choice for herself.
"I realized that I had to take advantage of the opportunity because I didn't know the next time I would get an offer to do something like this," Bienstock said. "I couldn't give up my dream for somebody else, so I happily replied to the email and accepted the Fulbright. The next day, I found out that I got placed at the IE University in Madrid, and I knew I had made the right decision."
Her employer proved to be supportive.
"People congratulated me and understood that I needed to take this opportunity," Bienstock said. "I didn't tell them that I was an alternate when I got hired, but they were very kind about the sudden change of plans. Since they were familiar with the program, they were compassionate and realized that this was necessary."
And now, Bienstock is focused on the students she will help abroad.
"When I was at K, I loved learning from other students about their classes," she said. "I look forward to learning from IE students about their classes, too. IE has students from all over the world and I look forward to learning about their writing styles from their perspectives."