Kalamazoo College has been recognized as a top producer of Fulbright students for the 2017-2018 academic year — among them Dejah Crystal '17. Here's a closer look at Crystal, the work she's doing in the Fulbright program and the role her K experience played.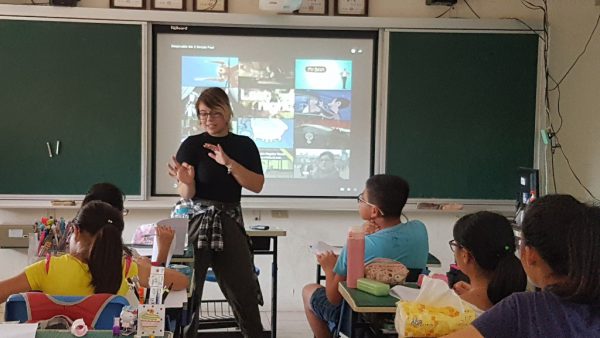 What are you doing as a Fulbright student? 
I live on the tiny island of Kinmen in the Republic of China (Taiwan), and I work as an English teacher/teacher's assistant at Jheng Yi Elementary School. Every week I solo-teach six classes (grades two to six) and I co-teach eight classes with two local English teachers (grades three to six). On Fridays, I work at an English language learning center called English Village. There, we teach fifth- and sixth-graders from across the island in a full day of hands-on English language learning activities. I also spend time volunteering at the local university, NQU, participating in writing workshops called "The A to Z Collective." We work with college students who are interested in improving their English writing skills. Outside of the classroom I love exploring the island with my friends and driving around on my moped scooter when the weather is nice.
How did K help you prepare to be a Fulbright student?
While at K I majored in East Asian studies and studied abroad in Beijing. Those experiences led me to discover my passion for studying Mandarin and later led me to find the Fulbright English Teaching Assistant program in Taiwan. I have always loved teaching, so this opportunity ended up being a wonderful fit.
What do you have planned next?
I hope to continue teaching in Taiwan, and continue to grow both academically in my study of Mandarin and professionally in my role as an English teacher.