National First-Generation Day celebrates students, faculty and staff around the country who are the first in their family to pursue a four-year undergraduate degree. November 8 was identified as the date because it honors the anniversary of the signing of the Higher Education Act of 1965, which expanded college opportunities for low-income and first-generation populations.
Championed by the Council for Opportunity in Education (COE) and the National Association of Student Personnel Administrators (NASPA) Center for First-Generation Student Success, the day brings awareness to the strengths of first-generation students. At Kalamazoo College, we seek to affirm those strengths and the assets they bring to us by supporting, elevating and increasing their visibility on campus.
Here are a few stories of our students and staff. We asked them about their involvement and activities, why they chose K and their advice for other first-generation students.
---
Lizbeth Blas-Rangel '24
Involvement and activities: During my time at Kalamazoo College, I have actively engaged and volunteered in several initiatives on campus and within the local community. I am currently a part of GEMS (Girls Empowered and Motivated to Succeed), an impactful mentorship program that mentors newcomers and refugees. I've volunteered in ESL classes at Milwood School and volunteered at Read and Write Kalamazoo (RAWK). I've also dedicated my time to the County ID program, providing essential identification services to residents of Kalamazoo.
Why I chose K: I chose to attend Kalamazoo College because of its open curriculum and small environment. The open curriculum has allowed me to explore a variety of classes and truly find what I am passionate about. Also, having small classes has allowed me to directly engage and connect with my professors and classmates, which has fostered a deeper understanding.
My advice to other first-generation students: Embrace your uniqueness; your background is a strength! Never be afraid to ask questions and seek help. Remember, you belong here!
---
Finn Brent '24
Involvement and activities: During my time at K, I have been involved in Ultimate Frisbee, the soccer team and the Aspiring Law Student Organization at different points throughout. I have done two community building internships that were offered through the Center for Civic Engagement.
Why I chose K: I chose to attend K because I liked the idea of attending a smaller school that prioritized academic success, and to make use of the Kalamazoo Promise, which I am a beneficiary of after attending Kalamazoo Public Schools.
My advice to other first-generation students: My advice would be to seek resources to be prepared to become accustomed to the differences between high school and college because it can be a big change with limited prior knowledge and there are plenty of resources available.
---
Yaire Cisneros Tovar '26
Involvement and activities: I'm involved with the Latinx Student Organization, Sukuma Dow, and I occasionally volunteer at El Sol Elementary.
Why I chose K: I chose to attend Kalamazoo College because of the school's flexible curriculum which allows me to explore different interests in majors and minors.
My advice to other first-generation students: My advice to first-generation students is not to be afraid to ask for help. Finding resources in college can seem overwhelming but they are there for a reason and can help open doors to opportunities.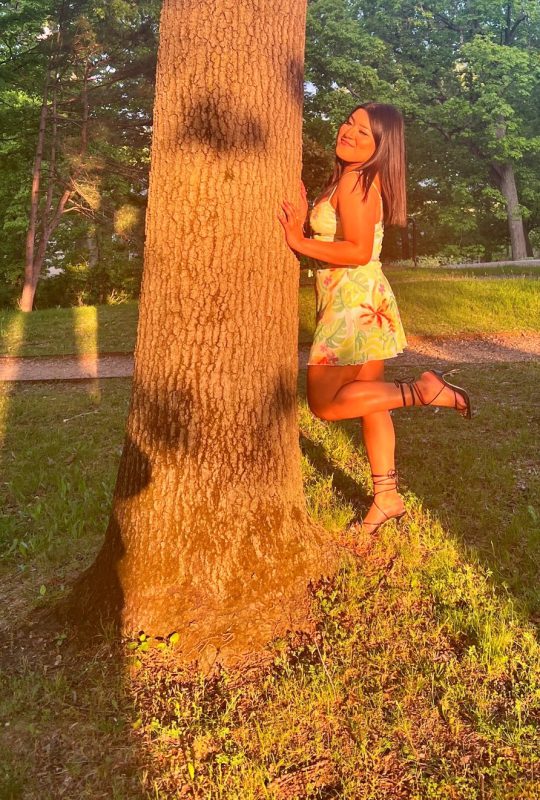 ---
Samantha Cuevas-Ramos '26
Involvement and activities: Some student organizations that I'm involved in are WOCA ((Womxn of Color Alliance), QTPOCC (Queer and Trans People of Color Collective) and LSO (Latinx Student Organization). Currently, I'm an FYE (First-Year Experience) mentor and it has been amazing, I really got to connect with a lot of first-years who are also first-generation. I think it's important for them to have someone who they can relate to and go to when they need help or just to talk. In my first year, I volunteered at EL Concilio as a tutor for elementary school students, and because of this, it drove me to become a CAPS tutor for the CCE. I hope for the winter term of my sophomore year I can go back to volunteering at EL Concilio.
Why I chose K: When doing my college search during my senior year of high school, I was nominated for the POSSE scholarship. Although I didn't get chosen, I fell in love with Kalamazoo College, and when I got in, I was so happy, so I decided to accept my offer. But I do have to say it was also because of the financial aid offer they had given me. To this day, I don't regret coming to K.
My advice to other first-generation students: Put yourself out there. I'm typically a shy timid person but after taking a few steps out of my comfort zone I was really able to achieve a lot of things. A few things that I learned were to ask for help, I realized that if I didn't reach out for help, I wasn't going to be able to succeed in my classes. K has a lot of resources, like the writing center it's an amazing place to go if you're struggling in writing your paper for a class, the learning support center will help you get organized they also provide amazing studying tips, and your professors I mean they are here to help you to succeed in their class.
---
Abigail Gutierrez '25
Involvement and activities: I'm a director in an acapella group on campus called ACAPOC (A Cappella People of Color). I have participated in the group since my first year on campus! I also am involved in The Cavern on campus where I am a student intern who works to create events on campus to bring the community together and I facilitate the Wednesday therapy dog visits in the cavern. I also am a mentor to first year students and I work to make their orientation and adjustment to campus as smooth as possible and make sure they know they are welcomed and cared for.
Why I chose K: Due to the incredible amount of financial aid the college was able to offer me, I knew that I would be able to come to college here. I also did lots of research on what the campus community was like and read that lots of professors knew their students by name. I knew that I would love to join a campus that was student run in many aspects as well.
My advice to other first-generation students: My advice is that no matter how much you miss home, it pays to stick it out and do something like attending college that has a chance of giving you better opportunities for your future. Also, when you get here, you will find that there are many people all around to support you, so reach out and know that you can always find someone who is on your team and wants you to succeed!
---
Maxine Horton '17
Involvements and activities: I was involved with the Classics Club, volunteered at the Kalamazoo Institute of Art and I attended many of the events that were hosted on campus with my older sister, Hunter Brown '16. However, I was busy working part-time for the Athletics Department and Facilities Management. Additionally, I was inducted into Alpha Lambda Delta; attended a Fulbright Commission, Durham University Summer Institute 2014; and went on study abroad to Rome in the American University of Rome program fall-winter 2015.
Why I chose K: I chose to attend K because of the opportunities to study abroad and the flexibility of the K-Plan, which allowed me to be hyper-focused on my studies in art history, history and classical studies. K provided me with the experiences and opportunities to uncover knowledge, get to know my professors on a one-to-one basis, and grow into a confident young adult.
My advice to other first-generation students: Kalamazoo College has the resources and the capability to take you wherever you want to go if you only ask. Although this experience was new to me, it was also new to my family, and while there were many learning curves along the way, the folks here at K were willing to help navigate me through it all.
---
Grace Leahey '25
Involvement and activities: On campus, I am involved with student development as a First-Year Experience mentor, Hillel at K and the Biochemistry Club as the vice chair.
Why I chose K: I chose Kalamazoo College because I really wanted the opportunity to foster connections with my professors and peers in a way I knew wouldn't be available at a larger university. I also enjoyed the smaller campus size and the ability to start working on my degree without having to take general classes first.
My advice to other first-generation students: I would advise any first-gen students to always ask questions. There are so many resources just waiting to be tapped into and all it takes to gain access is to ask. Sometimes it's hard to ask for help, but K has taught me that there will always be someone to help. The faculty and staff here really do want everyone to succeed.
---
Elizabeth Rottenberk '24
Involvements and activities: On campus, I am on the softball team as one of the team captains, I am a math consultant at the Math and Physics Center, I am a First-Year Experience mentor, president and co-founder of Hacky Sack Club, and I am one of the chair members of the Monte Carlo planning committee.
Why I chose K: I was eager to go to Kalamazoo College because it is academically competitive and I was offered to play for their softball team. What really got me to choose K is the small class sizes and the opportunity to explore different classes which led me to my math–English double major.
My advice to other first-generation students: As someone who has proven themselves amazingly by getting into a great college, do not feel like you need to keep proving yourself and go through your classes alone. Go seek help from others by collaborating with those in your class, going to office hours, going to helpful centers like the Math and Physics Center, Collaboration Center and more.
---
Sydney Salgado '24
Involvements and activities: I am the upperclassmen co-president of our Latinx Student Organization. I am also a campus ambassador for my high school's Schuler Scholar Program and the Departmental Student Advisor for the Spanish department. Additionally, I am very active in other student organizations like Students for Justice in Palestine, the Arab Student Union and Que Chevre. I have been blessed to be a part of all these organizations and opportunities and I am grateful for the students on campus who attend and organize collaborative and meaningful events.
Why I chose K: I decided to attend Kalamazoo College because K awarded me the most financial aid out of all the liberal art schools I applied to. I come from two hard-working immigrant parents, who have supported me in everything I do, so it was my goal to choose a college where they would not have to constantly worry about finding the means to help pay for my tuition.
My advice to other first-generation students: Take up your space! Share your thoughts in classrooms, with professors and with other students/friends/acquaintances. Your voice and your words matter, and they make a difference. Branch out! Go to club meetings or events your college hosts, even if you go by yourself. I promise you will meet some really cool people by doing this!