Continuing a record of generous support for Kalamazoo College, The Andrew W. Mellon Foundation has awarded $800,000 to fund a project aimed at updating and strengthening the College's experiential learning program, a cornerstone of the K-Plan.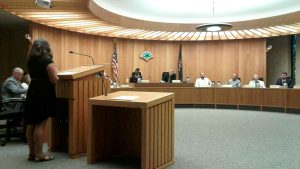 The grant is the largest yet to K from the foundation, one of the nation's prime philanthropic supporters of liberal arts education. It brings to more than $4 million the total in grants the New York-based foundation has given the College since the mid-1970s.
The grant recognizes the value of K's unique approach to liberal arts education, as embodied in the K-Plan: rigorous academics, study abroad, individual scholarship and, of course, experiential education — which provides students opportunities for hands-on, immersive learning in real-life situations.
The four-year award will cover the cost of bringing together students, faculty and staff in various settings and through a variety of means to explore and experiment with:
reducing barriers to participation in experiential learning;
strengthening faculty engagement with experiential learning; and
evolving the K-Plan and expanding its utility and educational impact.
Assistant Professor of English Marin Heinritz '99, a former chair of the College's Experiential Education Committee, along with a steering committee for the project, will work with a "design thinking" consultant to facilitate a collaboration between faculty, staff and students around these goals.
Heinritz recalled that as the College altered the K-Plan in the late 1990s, her graduating class was the last to have the second-year spring quarter dedicated to off-campus career development activities such as internships followed by summer classes before the junior year abroad. That revision of the College's schedule along with factors both economic and societal, she said, may have contributed to decreased participation in some experiential learning programs among K students.
She said the design thinking process focuses on the needs and expectations of those being served—in this case, students—and is intended to inspire innovative strategies for making experiential learning a more organic part of the curriculum.
"The idea is to help elicit thinking from us so we can begin to problem-solve," Heinritz said. "We've gotten this amazing grant so we have these great resources and time to see how it's going to evolve. There are all kinds of possibilities."
She said one proposal might be to devise classes that take advantage of K's long winter break by using part of it for a capstone experience directly related to the material covered in the classroom.
"So for example, I teach a food and travel writing sophomore seminar, and it would be really fun to take the students somewhere connected with that and give them lots of writing and reflection assignments," she said. "That would change the way I teach that class fundamentally to give them a direct experience."
College Provost Mickey McDonald also pointed to existing models, such as a project led by Anthropology and Sociology Assistant Professor Francisco Villegas that involved students in Kalamazoo County's initiative to establish a local ID card for those unable to obtain other forms of government identification. He said that through the process led by Heinritz, students, faculty and staff will seek to make the connections between experiential learning and other parts of the K-Plan "much more explicit for our students."
"I think there's a really different landscape now than there was even 10 years ago, before the Great Recession, and so students and their families are thinking about how to hit the ground running as soon as they graduate," McDonald said. Amid concerns about finishing a degree in the minimum possible time, they can see experiential learning as a luxury or disconnected from their long-term goals.
"One of the ideal outcomes would be that almost no student would see any kind of barrier to experiential learning," McDonald said. "If we think this kind of education is the best way to prepare them to be great citizens of the world, then we need to take as many of these barriers away as possible."
McDonald said the focus on such issues, while certain to be greatly enhanced by the grant, is not new, and that students could begin benefiting from the innovative programs it produces as early as the 2018-19 academic year – in line with the launch of the College's new strategic plan this spring.
"The commitment to the K-Plan, to experiential education, is going to be a central priority of the strategic plan," he said. "I think this grant and the work that we've been doing are going to resonate very well with it."