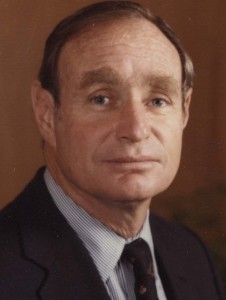 The K community is saddened to learn of the death of David Markin, a longtime friend of the College. David was an influential businessman, serving as president and CEO of Checkers Motors in Kalamazoo—maker of the iconic Checker cab—for almost four decades. He was also an avid art patron and collector, a tennis enthusiast extraordinaire, and a philanthropist whose generosity benefited Kalamazoo College and many other institutions and organizations in Kalamazoo and elsewhere.
In the world of tennis, David served as president of the United States Tennis Association (USTA), 1989-90. He also chaired the U.S. Open committee that planned and executed the revitalization of the National Tennis Center in New York City in the mid 1990s, including the construction of Arthur Ashe Stadium, the centerpiece of the U.S Open and one of the finest sports facilities in the world. He also served as Chairman of the Davis Cup Committee, the Junior Tennis Council, and was, for many years, the official referee of the USTA Boys′ 18 & 16 National Championships held annually at Stowe Stadium on the K campus. He was awarded the Samuel Hardy Award for long and outstanding service to the sport in 1991, and in 2010, was presented a USTA Volunteer Service Award for 40 years of devotion to tennis.
David was a trustee emeritus of Kalamazoo College, having served on its board of trustees from 1973-91. He received K's Distinguished Service Award in 1997 and was a longtime K benefactor. Examples of his generosity include the Thomas Markin Memorial Scholarship that benefits worthy students and the Thomas Markin Racquet Center (K's indoor tennis and racquet sports facility), both named after a son who died young. The Markin Center was opened in 1985 and has hosted many high school and college tennis tournaments, including the recent NCAA Men's and Women's Division III National Championships. David was a fan of the Hornet tennis program for many years, supporting the efforts of Athletic Director Rolla Anderson and Men's Tennis coaches George Acker, Timon Corwin '86, and Mark Riley '82.
"You can't talk about the USTA boys tournament in Kalamazoo, the Arthur Ashe tennis stadium in New York City, or the tennis program at Kalamazoo College without talking about David Markin," said Riley. "David was long treasured and he will be long missed."
David Markin died Thursday near his Florida home after a brief illness at age 82. The College extends its condolences to his extended family and many friends. Information on funeral arrangements and memorials will be shared when available.