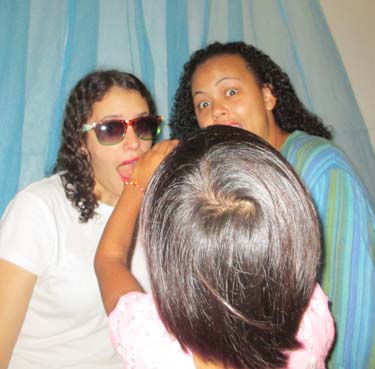 Senior Cheyenne Harvey is one of eight students in the United States selected as a Joy of Giving Something (JGS) Fellow by the organization Imagining America. As a JGS Fellow, Cheyenne receives a tuition scholarship and joins a national working group of engaged media makers. She will join the other Fellows in October at Imagining America's national conference in Atlanta. Criteria for the Fellowship included financial need, artistic merit, and community engaged practice. Imagining America is a national network of campus-community collaborators in humanities, arts, and design hosted on the campus of Syracuse University. Joy of Giving Something is a scholarship provided through Imagining America dedicated to the photographic and media arts.
Cheyenne included three of the seven documentaries that she has produced as a K student in her application. Those three are titled Bronson Park Site Intervention; Finding Peace in a Burning World; and Social Landing. An art major at K, Cheyenne has worked in various media. Her primary interests are photography and, more recently, film making. One of her strongest influences (both personal as well as artistic) has been videographer and teacher Dhera Strauss, who works in the College's information services and art departments.
Cheyenne is very active in the College's Center for Civic Engagement. As a sophomore and a senior she has worked as a Civic Engagement Scholar for the program Partners in Art. In that position, she works with groups and organizations in Kalamazoo to build relationships through conversation and artistic expression. The groups with which she has worked include Community Advocates for Parents and Students, Ministry with Community, the Bureau of Services for Blind Persons, the Southwest Michigan Heritage Society, and the Boys and Girls Club of Kalamazoo. In her work, the making of art becomes a language shared by people who differ from each other. The impulse to create, common to all, is a way to experience the diversity of all, which is a great source of vitality. This sharing across difference can inspire more making of art–a deepening of a conversation with ourselves and the world.
Cheyenne wrote about this phenomenon in her application essay when she described her study abroad experience in Varanasi, India. "Many local children and teens would ask foreigners to take their picture or a video of them, and then they would run up and want to see the images," wrote Cheyenne. But they were much more than subjects. "They were directors, devisers, and artists. They were not often content with the images, and many of the kids would plead with us to take the picture again in a new way. I could see that it meant a lot to them to have their own artistic agency in the process.
"Two of the local students would visit me often, and we became good friends through taking photos together. Sharing my phone and camera, we would take turns showing each other the images we carefully devised. One, named Anuska, who was four years old, would stand with her legs spread out holding my phone straight out in front of her to take photographs. Watching Anuska and the other kids further inspired me in the pursuance of photography and film. They showed me the power that media has to unlock the artist in everyone, and I love being a part of this. We differ as devisers of art, but share the impulse to make it."
Add a camera phone (or paintbrush, or clay, or pen and ink) to that impulse and a native speaker of Hindi can communicate–and become a fellow artist and friend–with a native speaker of English.