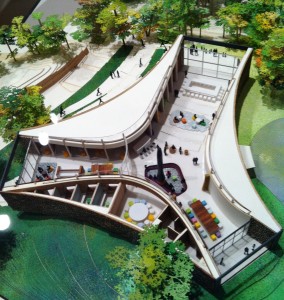 Kalamazoo College hosts a dedication and ribbon-cutting ceremony at 4 P.M., Friday Sept. 19, for the Arcus Center for Social Justice Leadership building at 205 Monroe St., at the corner of Academy St. in Kalamazoo, Mich. The 10,000 sq. ft. structure—the newest on the K campus—was constructed by Miller-Davis Company of Kalamazoo and designed by Studio Gang Architects of Chicago.
The dedication event is free and open to the public. Guests are encouraged to park in the K Athletics Fields parking lot, 1600 W. Michigan Ave., and take continuously operating shuttle vans to the ceremony.
Speakers will include Charlotte Hall '66, chair, K board of trustees; Jon Stryker '82, K trustee; Jeanne Gang, founder of Studio Gang Architects; Eileen B. Wilson-Oyelaran, K president; and Cameron Goodall '15, K student commission president.
The ribbon-cutting ceremony will include Carol Anderson, K professor of religion and chair of the Department of Religion; Lisa Brock, academic director of K's Arcus Center; and Mia Henry, executive director of K's Arcus Center.
Refreshments and an open house in the new building follow.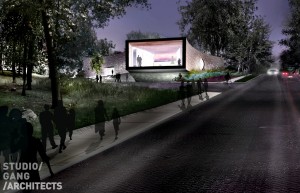 The Arcus Center building features offices, work areas, and classroom/seminar spaces situated around a central hearth and kitchen area. Wooden benches around the central fireplace preserve and repurpose wood from the site's trees. The building's structural frame includes 680 pieces of steel—many curved, some in two planes, and no two alike.
The building's three-sided form emphasizes academic learning, relationships with the natural world, and interdependency of communities. A predominance of curvature represents arms open to all to join in social justice work.
The exterior cordwood masonry construction—northern Michigan white cedar logs of varying diameter in 11- to 36-inch lengths—symbolizes the diversity of humanity. While cordwood construction is traditional to the upper Midwest, this is believed to be the first commercial or institutional structure in North America to employ this technique.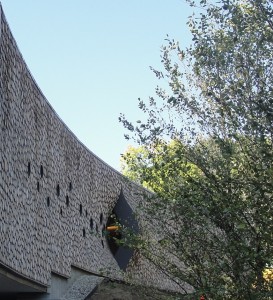 The College will seek Gold LEED certification for the new building. Its geothermal heating and cooling system (12 wells drilled to a depth of 400 feet) meets the College's stringent energy efficiency standard. A radiant and forced convection heating system transforms the Center's entire floor into a heat duct, with air movement undetectable to the senses. Onsite drainage and retention reduces storm water runoff.
K gratefully acknowledges Steelcase Inc. and Custer Workplace Interiors for their generosity in helping supply office furnishings for the new Arcus Center building.
The Arcus Center building and its $5 million construction cost is a gift to the College from Jon Stryker, a member of the K board of trustees and of the K class of 1982. Jon is founder and president of the Arcus Foundation (www.arcusfoundation.org), a private, global grant-making organization with offices in New York City, Kalamazoo, and Cambridge, U.K., that supports the advancement of lesbian, gay, bisexual and transgender (LGBT) human rights, and conservation of the world's great apes. Jon is a founding board member of the Ol Pejeta Wildlife Conservancy in Northern Kenya, Save the Chimps in Ft. Pierce, Fla., and Greenleaf Trust, a trust bank in Kalamazoo. He also serves on the board of the Friends of the Highline in New York City. Jon is a registered architect in the State of Michigan. He earned a B.A. degree in biology from K and a M.A. degree in architecture from the University of California, Berkeley.
MacArthur Fellow Jeanne Gang is the founder of Studio Gang Architects, a Chicago-based collective of architects, designers, and thinkers practicing internationally. Jeanne uses architecture as a medium of active response to contemporary issues and their impact on human experience. Each of her projects resonates with its specific site and culture while addressing larger global themes such as urbanization, climate, and sustainability. With this approach, Studio Gang has produced some of today's most innovative and visually compelling architecture. The firm's projects range from tall buildings like the Aqua Tower, whose façade encourages building community in the vertical dimension, to the Nature Boardwalk at Lincoln Park Zoo, where 14 acres of biodiverse habitat are designed to double as storm water infrastructure and engaging public space.
Founded in 1909, Miller-Davis Company is headquartered in Kalamazoo, Mich., with an additional office in South Bend, Ind. It is a full-service construction company providing general contracting, construction management, design-build, and construction consulting services. Miller-Davis has served as the construction manager on numerous Kalamazoo College projects for more than 80 years. In addition to the Arcus Center for Social Justice Leadership, these projects include Upjohn Library Commons, Hicks Student Center, the K Natatorium, Stetson Chapel, Mandelle Administration Building, Hoben Residence Hall, and Trowbridge Residence Hall.
The mission of the Arcus Center for Social Justice Leadership (www.kzoo.edu/socialjustice) is to support the pursuit of human rights and social justice by developing emerging leaders and sustaining existing leaders in the field of human rights and social justice, creating a pivotal role for liberal arts education in engendering amore just world. The Arcus Center was established at Kalamazoo College in 2009 through generous funding from the Arcus Foundation. In 2012, the College received a $23 million grant from the Foundation to endow the Center's activities.
Kalamazoo College (www.kzoo.edu), founded in Kalamazoo, Mich., in 1833, is a nationally recognized liberal arts and sciences college and the creator of the K-Plan that emphasizes rigorous scholarship, experiential learning, leadership development, and international and intercultural engagement. Kalamazoo College does more in four years so students can do more in a lifetime.