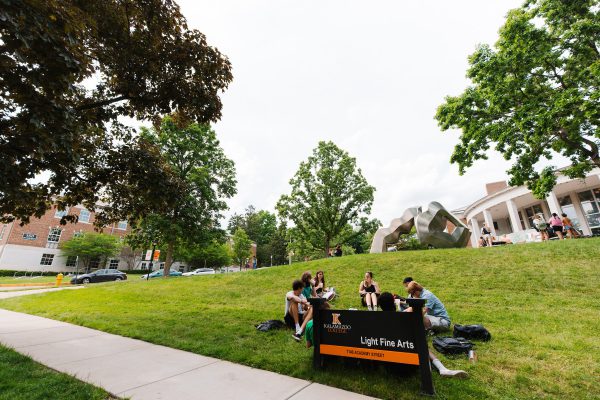 A guide for college-bound students and families is recognizing Kalamazoo College as one of about 400 schools from across the country to earn high marks for top-notch undergraduate experiences.
K is included in the 2022–23 Colleges of Distinction online guide, which lauds schools for going beyond what typically drives rankings to offer a personalized education catered to students' interests. It spotlights K through the K-Plan, the College's framework for exceptional academics within the liberal arts and sciences.
"When we focus all of our attention on how schools stack up against one another, we lose track of what really matters: the students themselves," Colleges of Distinction Founder Wes Creel said. "Every student has individual needs and their own environment in which they're most likely to thrive. We want to extend our praise to the schools that prioritize and cater to students' goals."
High school guidance counselors, college administrators and the Colleges of Distinction selection team nominate excellent schools for inclusion before each institution is vetted to determine its quality through its support for students in all aspects of their lives. Colleges of Distinction judges its nominees on their teaching quality, student engagement, community engagement and outcomes through a selection process that includes in-depth research and detailed interviews with the schools and stakeholders.
K received accolades in each area along with honors for its undergraduate programs in science, math and technology; health and medicine; arts and humanities; multidisciplinary studies and social science.
"We pride ourselves on being an institution that prioritizes hands-on student experiences inside and outside the classroom to reflect a well-rounded education through independent scholarship, study abroad opportunities, civic engagement, career development and more," Dean of Admission Suzanne Lepley said. "When students enroll at K, they should feel confident we will do everything we can in their four years to set them up for success for the rest of their lives. This recognition from Colleges of Distinction confirms that."
K is also recognized among the top Colleges of Distinction in terms of equity and inclusion as it caters to the unique needs of their students regardless of race, ethnicity, socioeconomic status, sexual orientation, gender or ability.
"A great undergraduate experience is more than just graduating and getting your first job," the Colleges of Distinction website says. "Colleges of Distinction graduates are prepared for anything. They are strong writers, speakers and thinkers because their professors have encouraged and challenged them one-on-one. They have meaningful professional experience from internships and advanced research, and they know how to work together with people different than themselves because they have been active on campus, traveled abroad and pursued service opportunities. In other words, when you graduate from a College of Distinction you will be equipped to find better solutions in the workplace, your community and the world at large."