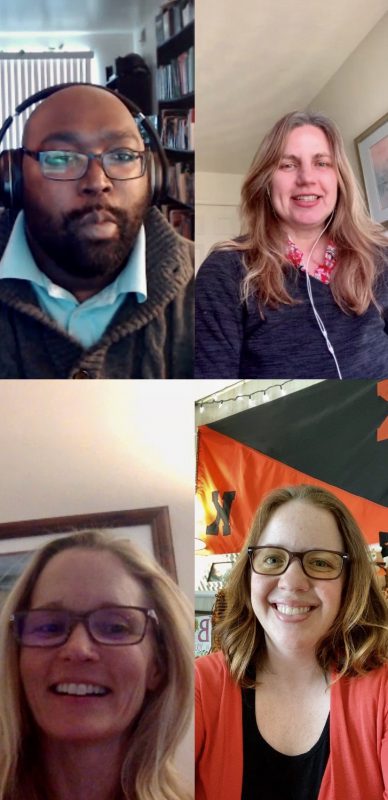 Students concerned about facing the current job market can rest assured that a plan for virtual operations will keep Kalamazoo College's Center for Career and Professional Development open for business this spring. Those virtual operations, though, will be different from business as usual, addressing the unique challenges of seeking a job amidst a global pandemic.
"We know that most of our students are not going to be thinking about career development at this time," Interim Director Valerie Miller said. "There are too many other issues that they are facing. How can we ask them to care about updating their résumé or practicing interview skills with all that is on their minds?"
Those issues are why the CCPD will take a Design Thinking approach to career planning this term. Design Thinking, created by Stanford University's Plattner Institute of Design, focuses on addressing "wicked problems," which are problems that might seem impossible to solve. Those problems might include, for example, what arises with a search during a global pandemic.
"Professors at Stanford have been offering a course called Designing Your Life for years, and recently published a book with the same title that includes many of the tools and concepts from their course," Miller said. "We are using this book and other resources to share useful information around Design Thinking and career planning with students. This is primarily a communication strategy that seeks to provide support as well as relevant content and resources."
With that strategy, Interim Associate Director Rachel B. Wood will send students an email framing what they can expect from the upcoming week. Plus, she will post content to the department's Facebook and Instagram accounts each day with the themes of Monday Motivation, Tuesday Tips and Tools, Wednesday Watch and Listen, Thursday To-Dos and Friday Focus: Design Thinking.
If those messages feel comfortable and familiar to students, it might be because they promote CCPD services that continue to provide excellent employment outcomes. Those services include:
Career coaching. Staff provide students with guidance regarding their majors, grad school opportunities and career assessments. Appointments may be scheduled through the online tool Handshake.
Virtual events and workshops. Students will connect with alumni and network through Wisr, a web platform designed for higher-education institutions to promote digital communities. Speaker events, including the annual Confident at Commencement series, and a collection of new events, including virtual recruiting events, will be available.
Advice from alumni and local leaders. This term, that will come through a new podcast called Career-ish, hosted by Assistant Director of Experiential Opportunities Richard Sylvester, and recorded content and presentations from staff and alumni.
"Our students are facing many wicked problems as they move forward in the world, and we thought it would be useful to us and to them to provide a framework they can use to tackle these problems," Miller said.
That framework is available to students simply by reaching out this term. Contact the CCPD through email at career@kzoo.edu.