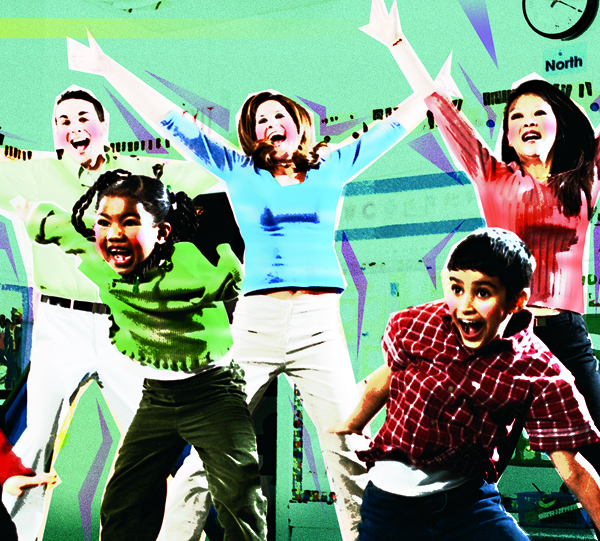 The Mary Jane Underwood Stryker Center for Civic Engagement (CCE) turns 15 this year, and its hard to imagine better origins. It began as a joint brainstorming effort between students, faculty and several community partners with the intent on redefining what a liberal arts education was all about. Students were not just de facto city residents while they studied at K; they were community assets as well. Annually, about 600 K students participate in service-learning in some way with the CCE.
From work on sustainability issues to girl's and women's empowerment to health and economic equality to food justice, CCE programming engages students in work that promotes social justice, further pushing the College's mission to create lifelong learners.
"For some of our students, it's the first time they've witnessed first-hand a variety of 'isms,'" says Alison Geist, CCE's director. "We put students on the front lines of many societal issues in a way that sitting in a lecture or classroom just can't."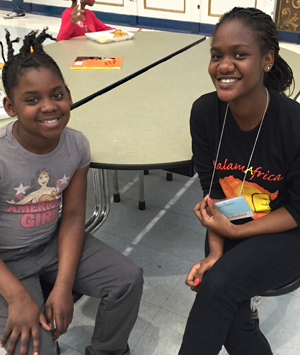 Susmitha Daggubati '16 mentors a second-grader at Woodward Elementary School in Kalamazoo's Stuart Neighborhood, adjacent to K's campus. Daggubati, a senior majoring in chemistry and earning a concentration in biochemistry and molecular biology, is in her second year at Woodward and serves as a Civic Engagement Scholar, a kind of on-site leader who mentors other K students working at sites across the community, scheduling their shifts and organizing meetings to brainstorm programming ideas.
Daggubati moved with her family to the Kalamazoo area from their native India ten years ago. Still very much tied to her Indian roots, her time in service-learning has also given her a greater understanding of the complex social issues at play in American society "In many classes, we learn the theories about the roots of so many social problems," she says. "But I am able to make those connections to the real world when I'm involved. It keeps me rooted in the realities of the world, and it has given me a greater understanding of American culture."
Tom Thornburg is the managing attorney at Farmworker Legal Services, a non-profit agency based in Bangor, Mich., a small community about 25 miles west of Kalamazoo, in an agricultural area where hundreds of migrant workers flock each year to work in fields and orchards. His agency assists these workers – overwhelmingly Hispanic – with everything from language services to information on their legal rights to informing them of resources available to them. He's been working with the CCE for almost a decade, and the K students who've come through his doors have become an invaluable resource.
"The students from K are some of the brightest, best-equipped and most professional volunteers we get," Thornburg says. "They come here with a sense of enthusiasm to help, a sense of what to do, an autonomy. They're excellent, right up there in many ways with the law students we have working here."
Over the years, hundreds of the nearly 2,000 students Associate Professor of Psychology Karyn Boatwright has taught have participated in service-learning programs, in a diverse group of local agencies, from the Kalamazoo Public Schools to Planned Parenthood to Goodwill Industries.
Through more than 30 different courses at the College designed with community partners, faculty at K have engaged thousands of students, community residents and leaders to create opportunities for experiential learning and impact derived organically and intentionally from service-learning work.
Says Boatwright, "The CCE and their students consistently impress upon us the need for reflection to ensure that we are not only connecting the proverbial dots, but understanding the political and social connections between success and social factors. Civic engagement experiences improve the quality of learning for our students and strengthen our community."
The College's solid commitment to developing the next generation of leaders who are observant, lifelong learners intent on crafting solutions to problems plaguing a suffering world is stronger now than ever. Concludes Geist: "The founders of K were always interested in social justice, and our programming is a manifestation of that. It's the idea that we should be creating a fellowship of learning, not just working in ivory towers tucked away from society."
(Text by Chris Killian; photo by Keith Mumma)