The Arts Council of Greater Kalamazoo has awarded Kalamazoo College Professor of Music Jim Turner its 2016 Award for Arts Leadership-Educator, and the Arts Council awarded Kalamazoo College Alumnus Ladislav Hanka '75 a Community Medal of Arts.
Turner, who directs the Bach Festival Choir, will be honored as "a recognized leader in arts and education community" whose work has a strong impact on the greater Kalamazoo community through art and creates positive and productive relationships in the community far beyond Kalamazoo College.
Hanka, whose etchings, prints, and drawings illustrate the intricacies and mystery of nature, is honored as a leading artist with a significant body of creative activity, who has received local and/or national acclaim, and has deeply affected the community through art. The CMA award encompasses all art forms–visual, musical, theatrical, literary, performing, multi-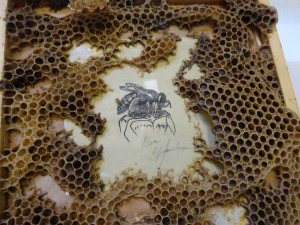 media, architecture or design. And, in Hanka's case, collaborations between man and bee. His most recent ArtPrize entry, "Great Wall of Bees: Intelligence of the Beehive," featured live bees that buzzed and danced and chewed over three rows of Hanka's etchings—-detailed images of toads, salmon, trees, insects, birds. The bees built honeycomb along the curves of his lines in seeming collaboration that is at times startling.
Turner and Hanka are part of a group that will receive awards on Sunday, July 17, at the Sunday Concerts in the Park in Bronson Park. The event begins at 4 p.m. with the award presentation at 4:30 p.m. The concert and presentation ceremony are free and open to the public. A reception will follow at the Kalamazoo Institute of Arts. The reception is free but reservations would be appreciated. Reservations can be made by calling the Arts Council at 269.342.5059.