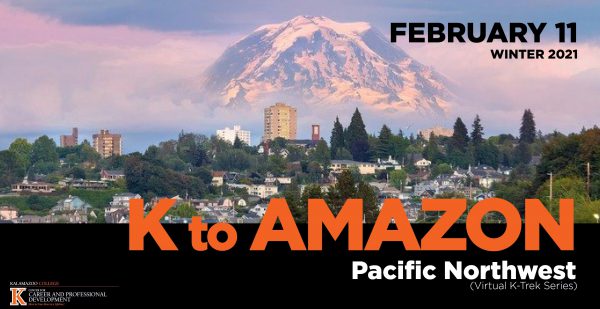 K to the Pacific Northwest, a series of K-Treks helping students network virtually with alumni at global companies, is continuing from 7:30 to 9 p.m. Thursday with K to Amazon.
Offered through the Center for Career and Professional Development (CCPD), K-Treks are traditionally career-immersion experiences in which students travel to explore jobs of interest. With virtual experiences this term, all students are invited to participate regardless of their major.
Several K alumni work at Amazon in roles such as marketing, human resources and business development at facilities such as the Amazon Spheres. Some of those alumni were recently featured in LuxEsto, the College's digital magazine.
"We tell students that the best path to landing a job or an internship is through one's network,." CCPD Assistant Director for External Relations Valerie Miller said. "Recruiters might sift through hundreds of resumes for a single job posting, but someone in your network can open doors to unknown companies and opportunities. Even virtually, you can't beat an opportunity to meet K alumni and expand your network."
Amazon focuses on e-commerce, cloud computing, digital streaming and artificial intelligence, and is one of the world's most valuable global brands. Students may register for K to Amazon, co-sponsored by the Marketing and Investment Club, through Handshake at any time before the event. While at Handshake, students may also register for K to Starbucks, slated for March 4.
Learn more about this term's K-Treks at the CCPD website.