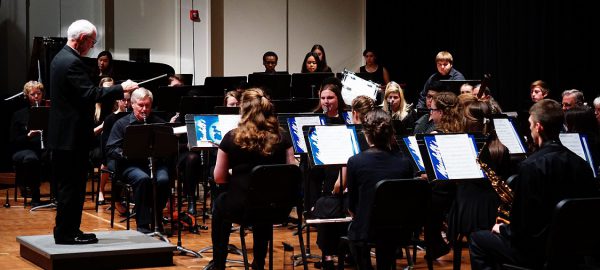 Music lovers will gather at 8 p.m. Friday for an Academy Street Winds concert at Dalton Theater in the Light Fine Arts Building.
The Academy Street Winds, formerly known as the Kalamazoo College Symphonic Band, functions as a beloved creative outlet for woodwind, brass and percussion students. Community musicians joined the ensemble in winter 2016 to expand the group's sound and capabilities.
The group, conducted by Music Professor Thomas Evans, performs one concert each term, playing exciting arrays of challenging band music. The band is a great favorite for its members and its audiences as the programs are coordinated around diverse themes, which allow for performances of much-loved pieces, both classic and new.
The theme on Friday for the fall-term concert will be "Sacred and Profane." Songs within the performance will include "The Imperial March" from Star Wars, written by John Williams and arranged by Paul Murtha; and "Ride of the Valkyries," written by Richard Wagner and arranged by Robert Longfield.
Admission is free.
For more information, contact Susan Lawrence in the Music Department at 269-337-7070 or Susan.Lawrence@kzoo.edu.