Major Minor
---
---
Why Study German at K?
At K you can read Kafka and Marx in their original language, gain a deeper appreciation for Beethoven and Schubert, understand Germany's central role in guiding modern Europe, and learn how German businesses thrive in the global market.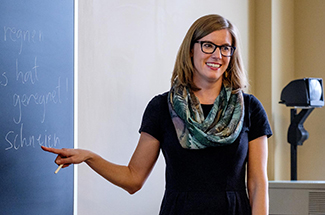 As a German student, you will not only become proficient in the language, you will also learn how to critically think about history and culture while gaining lifelong skills in intercultural communication. Even in introductory courses, you will have the opportunity to explore complicated themes like migration, food politics, and sustainability.
At K, you will have the privilege of further honing your German conversation skills by learning from our native-speaking teaching assistants from Germany, who lead language labs and host fun activities, such as game nights, cooking classes, and Stammtisch (conversation circles). For complete immersion, you can take advantage of Kalamazoo College's renowned study abroad program with three-, six-, or nine-month experiences in Lüneburg and Erlangen, Germany.
While German Studies is a well-rounded, standalone program, the lessons you learn—in courses like Myth of a Nation: German Film, Marx and the Arts, and Minority Cultures in Germany—can enhance your studies in other departments as well. In fact, many German courses are cross-listed with other departments like environmental studies; media studies; and women, gender, and sexuality.
Given the depth and breadth of the German Studies curriculum, you will leave K capable of applying your knowledge in a multitude of fields. Previous students have gone on to have meaningful careers in global relations, science, history and business.
What can you do with a German degree?
Below are some of the careers, employers, and graduate schools of our German alumni.
Careers
Historian
Journalist
Teacher
Foreign Service Officer
Employers
Fulbright
Security Magazine
Northeastern University
Google
Graduate Schools
Georgetown University
Friedrich-Alexander Universität Erlangen-Nürnberg
University of Bonn
Michigan State University
Program Spotlights
Study Abroad in Germany
Live in Lüneburg or Erlangen, Germany, for three to nine months to gain a first-hand understanding of German culture and language. While abroad, you will attend a month-long intensive language course, take classes at the local university, and go on organized trips across Germany and Austria. Erlangen students will additionally participate in an Integrative Cultural Project, where you intern with local organizations; past students have worked in refugee resettlement, nature conservation, and have even hosted a radio show!
Celebrate the K German community at Maifest
The department prides itself on the close relationships that students, faculty, and visiting international students form with one another as they rise through their German studies together, often from beginning German to the senior seminar. Maifest is an annual celebration of that community, which brings all our German students and faculty together to share in food, music and games as we usher in spring.
Showcase your knowledge in your Senior Integrated Project
German students often use their SIP as an opportunity to research their favorite topics from past courses or expand upon their internships while studying abroad–often returning to Germany with College funding to do so. Here you can see Madison Cambell '20 presenting the findings of her joint history and German SIP "Reclaiming Stasi Objects: The Stories of Jürgen Fuchs, Ulrike Poppe and Mario Röllig."
Meet the Current Departmental Student Advisor
What is the best thing about being part of this department?
The department provides a supportive and close-knit community that I'll forever be grateful for.
What is your biggest piece of advice to first-years and sophomores about getting connected to your department? 
Attend Stammtisch and get to know your TAs! Both are such amazing ways to not only improve your language learning but also meet new people!
How have you taken advantage of the open curriculum or experienced breadth in your education?
I went into college not knowing what I wanted to major in, so K's open curriculum really gave me the opportunity to explore different departments and get a feel for what I enjoyed! I have been able to take History, Classics, Japanese, and ANSO [Anthropology and Sociology] courses in addition to completing requirements for my majors.
What is your Senior Integrated Project (SIP)?
I will be writing about my internship experience at Helen L. Fox Gospel Music Center which will include a reflection on what I learned about music education and adolescent development from their nonprofit work.
What are your career aspirations/next steps after K?
After K, I hope to go back abroad to Austria or Germany – either through Fulbright or another fellowship!
German Department News