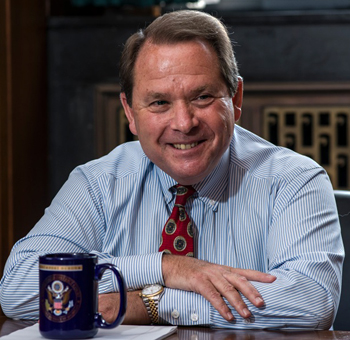 The Honorable Gerald Rosen '73, Chief Judge of the United States District Court for the Eastern District of Michigan, will deliver the 2015 William Weber Lecture in Social Science at 8 p.m. on Thursday, February 5. The lecture is free and open to the public and will take place in the Mandelle Hall Olmsted Room on Kalamazoo College's campus. The lecture is titled "Detroit Bankruptcy: Lessons Learned" and will draw from Rosen's experience as chief judicial administrator for the Detroit bankruptcy case, the largest municipal bankruptcy case in U.S. history.
At K, Rosen earned his bachelor's degree in political science. He was the first K student to study abroad in Sweden (Stockholm), to which he returned in his senior year to complete his Senior Individualized Project, which focused on Swedish press coverage of the 1972 U.S. presidential election. He began his professional career as a legislative assistant to United States Senator Robert P. Griffin (R-Michigan), serving on Senator Griffin's staff in Washington, D.C., from 1974 to 1979. During this time Rosen was involved in some of the most significant and challenging issues of the period. He also was attending the George Washington University Law School at night, and he obtained his J.D. degree in May 1979. (Today he is a member of the law school's board of advisors).
For 20 years, Rosen has served as an adjunct professor of law for University of Michigan Law School, Wayne State University Law School, University of Detroit Law School, and Thomas M. Cooley Law School. Throughout the years he has presided over a number of high-profile, ground-breaking cases, including the first post-9/11 terrorism trial, an early partial-birth abortion case, and one of the first physician-assisted suicide cases. Nevertheless, he describes his work on the Detroit bankruptcy case as "the most challenging and rewarding experience of my professional career."
Rosen is involved with several charitable and community organizations, including serving on the board of directors of Focus: HOPE and the Michigan Chapter of the Federalist Society. He has written and published articles for professional journals and the popular press on a wide range of issues, including civil procedure, evidence, due process, criminal law, labor law, and legal advertising, as well as numerous other topics. He is also a co-author of Federal Civil Trials and Evidence, Federal Employment Litigation, and Michigan Civil Trials and Evidence.
The William Weber Lecture in Government and Society was founded by Bill Weber, a 1939 graduate of Kalamazoo College. In addition to this lectureship, he established the William Weber Chair in Political Science at the College. Past lecturers in this series have included David Broder, Frances Moore Lappé, E. J. Dionne, Jeane Bethke Elshtain, William Greider, Ernesto Cortes, Jr., John Esposito, Benjamin Ginsberg, Frances Fox Piven, Spencer Overton, Tamara Draut, Van Jones, and Dr. Joan Mandelle.