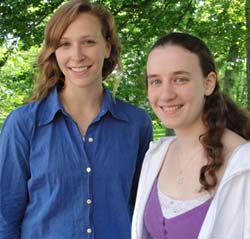 Class of 2013 members Lauren Wierenga (left) and Erica Dominic have been selected to receive prestigious Clare Boothe Luce Scholarships for Women in Science and Engineering. The scholarships will cover tuition for each quarter they are enrolled on campus during the 2011-12 and 2012-13 academic years.
Erica Dominic, from Farmington Hills, Mich., is pursuing a double major in mathematics and English. She is a teaching assistant for a calculus class and works at the College's Math and Physics Academic Resource Center as a math peer consultant. Through the College's Mary Jane Underwood Stryker Institute for Service-Learning, she tutors elementary and middle school students in math. During summer 2010, Erica participated in a math Research Experience for Undergraduates at Michigan State University. During the upcoming fall and winter terms, she'll study at the University of Aberdeen, in Scotland.
Lauren Wierenga, from Grand Rapids, is pursuing a biology major and math minor with a concentration in biophysics. She is co-leader of Kalamazoo's student organization Sisters in Science, and is a member of the Women's Ultimate Frisbee team. During summer 2010, she interned at Walter Reed Army Institute of Research in Silver Spring, Md. This summer, she will intern for nine weeks in the Princeton University molecular biology department. In the fall, she will attend Kalamazoo's Budapest Semester in Cognitive Science at Eötvös University in Budapest, Hungary. Eötvös is Hungary's premier science and liberal arts university.
The Clare Boothe Luce (CBL) program is funded by the Henry Luce Foundation. Since its first grants in 1989, CBL has become the single most significant source of private support for women in science, mathematics and engineering. Thus far, the program has supported more than 1,500 women.
Clare Boothe Luce was a playwright, journalist, U.S. Ambassador to Italy, and the first woman elected to Congress from Connecticut. In her bequest establishing this program, she sought "to encourage women to enter, study, graduate, and teach" in science, mathematics and engineering.
Kalamazoo College was invited to apply by the Henry Luce Foundation, and was selected to receive the scholarships based on evidence of its strength in science and engineering, and of its commitment to Mrs. Luce's vision of increasing the representation of women in these areas. Three Kalamazoo students received CBL scholarships in 2002, and three more in 2003. Additionally, Associate Professor of Mathematics Michele Intermont received a Clare Boothe Luce scholarship during her graduate school days at University of Notre Dame, in South Bend, Ind.