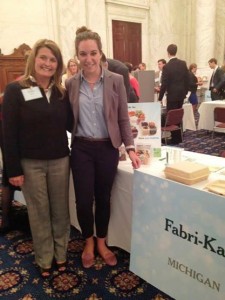 Skylar Young '15 is a policy intern working a summer internship in Washington, D.C. with Chris Adamo '99, staff director for the United States Senate Committee on Agriculture, Forestry & Nutrition. Skylar's internship was arranged through K's Center for Career and Professional Development (CCPD). She recently sent this report to CCPD Director Joan Hawxhurst:
"I just wanted to send you and the rest of the CCPD department a thank you. Today, I had the amazing opportunity to hear Justice Elana Kagan speak to a select number of interns and then had lunch with Senator Debbie Stabenow in the Senate Dining Room.
"On the second day of my internship, the Senate Agriculture Committee held a hearing entitled "Grow it Here, Make it Here: Creating Jobs through Bio-Based Manufacturing." The exhibition after the hearing demonstrated how bio-based products revitalize American manufacturing, and how it creates jobs for the economy.
"Chairwoman Sen. Debbie Stabenow from Michigan recognizes the integral connection between agriculture and manufacturing. Moreover, the Energy Title in the 2014 Farm Bill expanded eligible end-products to include renewable chemicals sources from biomass feedstock in the Bio-refinery Assistance Program.
"While I was perusing the exhibition to see all of the companies, I came across Fabri-Kal, a Kalamazoo-based company! I immediately went up to the spokeswoman and told her I went to Kalamazoo College.
"Here I was interning at the Senate on Capitol Hill, for not even a week, and I cannot seem to escape Kalamazoo!
"It made me feel proud to see a business from the city being represented, especially since it was representing one of the thirty innovators across the country that was leading in bio-based manufacturing. Fabri-Kal is a foodservice packaging supplier that manufactures packaging using 100% bio-based content from plant material. The company earned the USDA Certified Bio-based Product Label."
"These experiences are simply amazing, and I would not be here without the Kalamazoo College Center for Career and Professional Development."