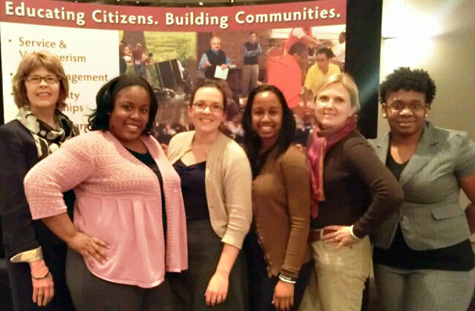 The Mary Jane Underwood Stryker Institute for Service-Learning (MJUSISL) at Kalamazoo College gathered a team of students, staff, and a community partner to give a panel presentation, "Students as Colleagues: A Fellowship in Learning," at the Michigan Campus Compact Service-Learning and Civic Engagement Institute 2012 on January 30 in East Lansing.
Sophomore Civic Engagement Scholars Raven Fisher (Detroit) and Roxann Lawrence (Jamaica), with Kalamazoo Communities in Schools Program Director Artrella Cohn, discussed the powerful learning and community impact of the award-winning program they lead, Community Advocates for Parents and Students (CAPS), at Interfaith Homes in Kalamazoo.
CAPS is a grassroots, all-volunteer organization that provides tutoring opportunities to KPS students from kindergarten to adult.