We all have a shadow, but Mickey's has a name: Michele.
Beginning this fall and throughout the school year, Michele Kelly, associate dean of arts and sciences at Macomb Community College, will periodically shadow Kalamazoo College Provost Mickey McDonald.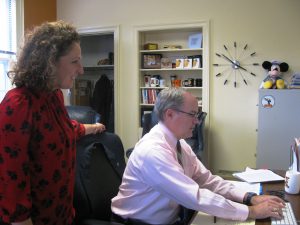 McDonald's mentorship of Kelly is under the auspices of the Michigan-ACE Network for Women Leaders in Higher Education. The "Moving the Needle" Senior-Level Leadership Shadow Program aims to increase the number of women in top college and university leadership by providing them the experience they need to move into positions such as president and provost – the chief academic officer for a higher education institution.
Kelly, who was chosen for the program through a competitive process, acknowledged that Macomb – a 40,000-student community college serving the Detroit suburbs – is a very different kind of school than K. But she said there is much that observing McDonald can teach her.
"I hope to be a provost someday," said Kelly, whose previous experience includes administrative positions at Queens University, a private liberal arts college in Charlotte, N.C. "I think that there are some trends in higher education that transcend institutions. It will be interesting to get the perspective of a completely different institution to fill in the gaps of my own knowledge. Following Mickey around I hope to do that."
McDonald said Kelly won't just be working with him.
"It's more than just following me around," he said. "She has access to everybody at K, and specifically digging into the areas she kind of wants to fill in in terms of her own background. Whether it's around budgeting, strategic planning, global initiatives, diversity and inclusion – one of the things we're trying to do is pair her up with the people on our campus so she can learn about different leadership styles, different approaches to various areas in higher education."
He said her time at K – up to 150 hours through June – will be scheduled around key learning opportunities. For example, a recent visit allowed her to sit in on a meeting about the College's strategic plan – an aspect of administration in which she said she had not previously participated. Other visits will allow her to leverage her own experience, such as when administrators discuss the follow-up to K's assessment by the Higher Learning Commission, a process she helped lead at Macomb.
McDonald said he sees mentoring Kelly as benefiting K, too.
"While it is not necessarily explicitly supporting the mission of preparing our students for their lives after K,  I think implicitly by supporting women's leadership, and higher education leadership, it's contributing broadly to our mission," he said.
It's also a way of giving back to ACE, the American Council on Education. McDonald said a yearlong ACE Fellowship at Ohio's Baldwin-Wallace College (now University) during the 2001-02 school year, when he was an administrator at California's Occidental College, helped further his career.
"It certainly much better prepared me for leadership opportunities and gave me the confidence and specific experiences that would make me a more effective leader," he said.
Beyond experience, the ACE program allowed him several years later to make what turned out to be a vital connection. Kalamazoo College President Jorge G. Gonzalez, then at Trinity University in Texas, was an ACE Fellow during the 2007-08 school year at Pomona College, a near neighbor of Occidental in the Los Angeles suburbs.
"That's where we met," McDonald said.