Though Kalamazoo College chemistry professor Tom Smith has had 40 years to devise just the right formula for ensuring the success of his students, they'll tell you that he had it from the very start. Alumni — led by two who were part of the first class Smith taught in the 1978-79 school year, Chris Bodurow and Bob Weinstein, both '79 — are in the midst of a fundraising effort that has endowed the Thomas J. Smith Student Research Fellowship in Chemistry. The fund honors the retiring Smith, the Dorothy H. Heyl Professor of Chemistry, by supporting an initiative he chose, and which is close to his heart: independent summer research.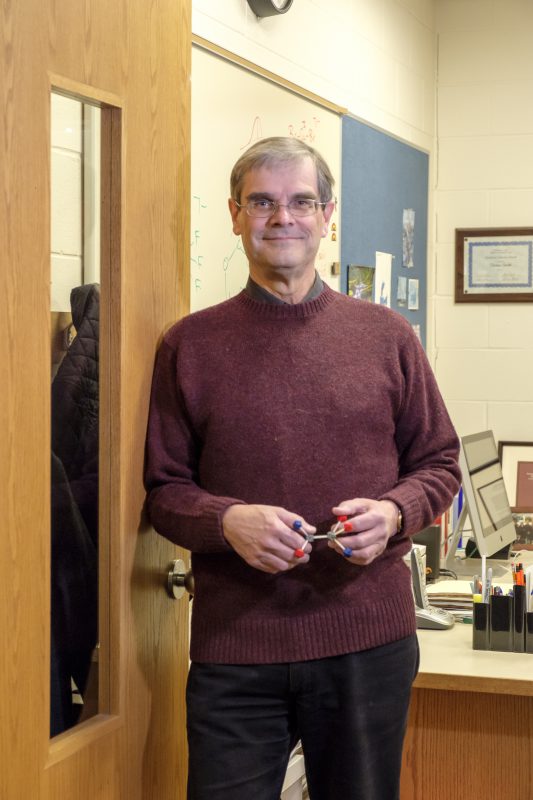 With Min Soo Kim '19 designated as the first recipient, the endowment drive is entering its second phase. Bodurow is personally pledging a match of up to $20,000 in contributions with the goal of expanding the number of students who receive the fellowship each summer, a priority for the College as its new strategic plan re-emphasizes the K-Plan tenets of experiential education and independent scholarship.
Testifying to the devotion Smith inspires: He has been designated an Alpha Lambda Delta National Honorary Society Favorite Teacher by first-year students 13 times since 2003. In addition, he has directed the Senior Individualized Projects of 70 students, was named a Camille and Henry Dreyfus Foundation Scholar and was awarded the Florence J. Lucasse Fellowship for Excellence in Scholarship or Creative Work and the Dr. Winthrop S. and Lois A. Hudson Award for Outstanding Contributions in Research at Kalamazoo College.
It doesn't take a list of awards, however, to understand the influence Smith has had on students, and the profound sense of appreciation it has engendered in the more than a dozen alumni who have contributed some $130,000 for the endowment.
Bodurow and Weinstein were seniors when Smith arrived at the College, fresh from post-doctoral work at Caltech. They said Smith immediately took on a role that went far beyond just teaching chemistry.
"He really had a very strong propensity to encourage us in our studies and in our post-Kalamazoo College strategies in our lives. He quickly identified students he thought ought to pursue graduate degrees and encouraged us," said Bodurow, who went on to earn a Ph.D. in chemistry from Princeton University and has had a distinguished career in drug research. Now retired from Eli Lilly and Company, where she was senior research director, external sourcing, for the Medicines Development Unit, she is a member of the board of the American Chemical Society and is president of PharmaDOQS, a consultancy.
"Tom was very deliberate about understanding our strengths and passions and directing us," said Bodurow. "It was all because of his strong commitment to launching us, and he made sure we had a strong post-Kalamazoo plan. It was quite extraordinary. If you talk to anyone who has had Tom as a professor, they will tell you a similar story."
Weinstein does.
"He helped us understand what it meant to go to grad school and how to get to grad school. He was telling us what it was like and challenging us with projects," said Weinstein, who earned his Ph.D. at the Massachusetts Institute of Technology and is president and CEO of Robertet USA, an arm of the French-owned maker of flavors, fragrances and natural raw materials. "It didn't take Tom Smith very long to say, 'This is what the College is about: I will prepare these students for graduate school or medical school and really dedicate myself to helping them.' "
Smith, he said, "was the engine behind me. To be able to contribute to his legacy at K is a privilege that I am proud to be able to do. I honestly believe that nothing I have accomplished would have been possible without Tom Smith and K."
Kalamazoo College President Jorge G. Gonzalez said few things are more meaningful to professors than to have former students credit them for their successes. To have them go a step further and fund an endowment in their name, he said, "is both an honor and an affirmation that you have achieved the goal motivating every educator, and that is to make a real difference in your students' lives."
Smith called it "humbling."
"You think you're getting your job done and then you discover decades later that the impact has lasted," said Smith, an aficionado of hiking and movies, who described the honor as a fitting capstone for his career.
"So often when I say goodbye to students, I tell them, 'Go out and make the world a better place,' " he said. "It becomes a lifelong interaction. That's why we do this."
To contribute to the Thomas J. Smith Student Research Fellowship in Chemistry, or to discuss creating an endowment in the name of another favorite faculty or staff member, contact Kalamazoo College Vice President for Advancement Al J. DeSimone at 269.337.7292 or Al.DeSimone@kzoo.edu.