A political tale timely for the upcoming elections is the featured fall production for the Festival Playhouse at Kalamazoo College.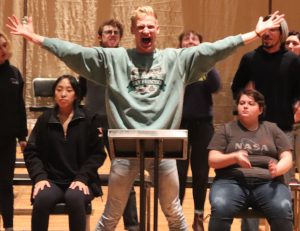 "It Can't Happen Here" is based on Sinclair Lewis' 1935 satire of what could happen if Fascism spreads to the United States. The stage adaptation focuses on political candidate Buzz Windrip, who no one takes seriously until he promises to return America to greatness and prosperity.
After Windrip wins the presidency, his administration devolves into confusion and danger. Journalist Doremus Jessup explores themes of the responsibility and freedom of the American news media. Please be aware the production includes mature content.
The play, directed by guest artist Marissa Harrington, is a Michigan premiere and continues through Sunday. It follows the theme of Assumption and Confusion, highlighting the gap between what seems to happen and what really happens.
Show times are 7:30 p.m. Friday and Saturday and 2 p.m. Sunday at the Nelda K. Balch Playhouse, 129 Thompson St. Kalamazoo College students, faculty and staff are admitted free with a College ID. Public tickets are $15 for adults, $10 for seniors 65 and older and $5 for students. Reserve your tickets at festivalplayhouse.ludus.com.
For more information on other shows this season and the Festival Playhouse itself, visit its website at reason.kzoo.edu/festivalplayhouse.