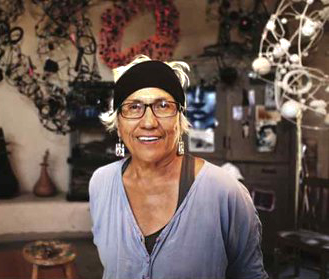 Nora Naranjo Morse will deliver the annual Phi Beta Kappa lecture at Kalamazoo College on Tuesday, October 11, at 8 p.m. in the Mandelle Hall Olmsted Room. The event is free and open to the public. Morse Morse is a sculptor, writer, and producer of video films that look at the continuing social changes within Pueblo Indian culture.  Her talk, "Numbe Wahgeh," focuses on the historical treatment of the Pueblo people and history retold by indigenous peoples.
An artist best known for her work with clay and organic materials, she has been trained in the Pueblo clay work tradition of the Southwest.  Her installation exhibits and large-scale public art speak to environmental, cultural, and social practice issues.  Beyond New Mexico, her work can be seen at the Heard Museum in Phoenix, the Minneapolis Institute of Art, and the Smithsonian's National Museum of the American Indian, Washington, D.C.
She studied at the College of Santa Fe, where she received her B.A. degree in 1980, and is the recipient of an honorary degree from Skidmore College.  In 2014 Naranjo Morse was awarded a Native Arts and Cultures Foundation Artist fellowship.  She is the author of two books:  a poetry collection, Mud Woman: Poems from the Clay, and a children's book, Kaa Povi.
Morse will spend two days on K's campus. In addition to her public lecture she will visit four classes and meet with various faculty and students.