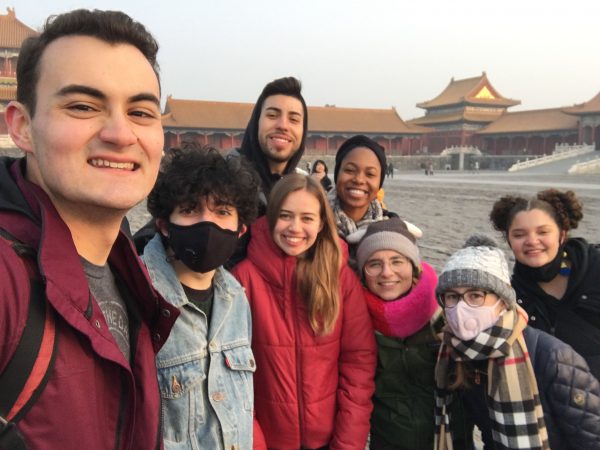 When Kalamazoo College students began their international immersion experiences this academic year, the Center for International Programs (CIP) didn't expect a global pandemic to change anyone's plans. Regardless, a once-in-a-century historical challenge emerged.
"This is my first worldwide phenomenon," said CIP Executive Director Margaret Wiedenhoeft in discussing COVID-19, an illness that has infected millions and killed hundreds of thousands of people worldwide. "Most of what we've worked with in the past has been country or region specific. This is the first time we had multiple programs shut down at once."
As the seriousness of the pandemic took shape, K was lucky. No students were sickened abroad and no immersion itineraries were cut unreasonably short as they were halted. On K's campus, international students affected by travel bans were provided residence hall rooms, even as the College took steps to empty campus and implement social-distancing guidelines.
Still, students who visited countries such as China, Germany and Spain, and international students who remained in Kalamazoo, have stories to tell. And if you've wondered how the pandemic has affected them in their travels, keep reading.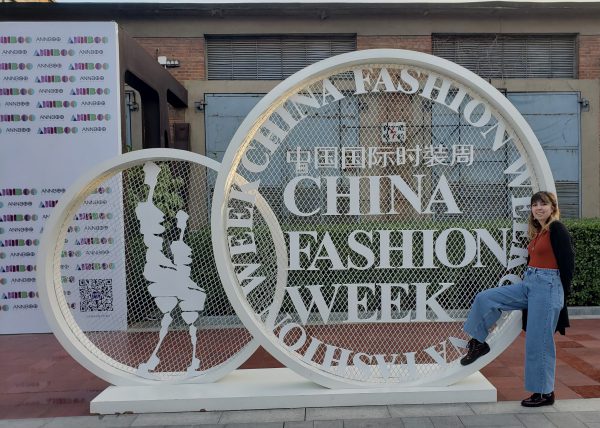 Days of Uncertainty in Beijing
Maya Hernandez '21 and Daniel Mota-Villegas '21 were among four K students studying at Capital Normal University in Beijing, China, this winter. Before coronavirus emerged, "Honestly it was amazing," said Hernandez, an East Asian studies major. "Everything was super affordable. It was fun to go out and explore the capital."
In late January, their sixth month of a planned nine-month immersion, that began to change as word developed of coronavirus, and its presence in Wuhan.
"I figured it was like the flu," Hernandez said. "But within the span of a week and a half, concern increased."
Although Wuhan is more than 700 miles from Beijing, professors in the capital were warning students not to visit enclosed and crowded public spaces, traffic was dying down, and fewer children were playing outside. Masks were commonly seen from the start because of pollution in the city, yet they were becoming more prevalent. Hotels and beaches even began to close, forcing Mota-Villegas and Hernandez to cancel plans to visit another city.
"After that there were check points around the school," said Mota-Villegas, a political science major studying U.S.-China relations and how they affect Taiwan. "They closed the school's gates and there were security guards around. We couldn't leave campus without direct permission."
Fear emerged without reliable, consistent communication through tools such as the Internet, which is problematic in China, and with a 12-hour time difference from Kalamazoo hindering communication with the College. Should they go home and risk not returning? Should they make logistical preparations such as closing their bank accounts? Should they stay and risk not being able to leave with travel restrictions developing around the world?
Meanwhile, in Kalamazoo, the CIP was monitoring the U.S. Department of State guidelines, which had yet to focus on Bejing. Partner organizations in China—which had not yet cancelled programs in other parts of the country—sent updates, and CIP was gathering additional information from other U.S. institutions that had students in China. The situation was fast-moving and fluid. Finally, Capital Normal cancelled its global programs for the next term on Jan. 31, leading to a phone call to students from the CIP. It was a call telling the K students that CIP was bringing them home.
"Once we heard we were going home, that was the best feeling in the world," Mota-Villegas said. "We needed that phone call. It made me realize again that K would take care of us. We felt supported again and we celebrated."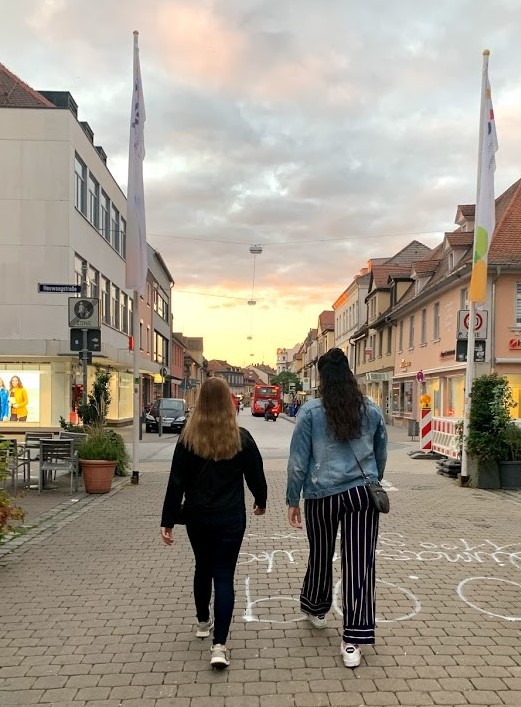 Similar Tales of Two Cities in Europe
Although news was spreading of the coronavirus in Europe, two K students who were there until March said they initially weren't worried about it, and they were surprised to come home.
In Badajoz, Spain, Nick Stein '21 was studying at the Extremadura University in January. Several of his K peers were leaving after attending their program for its scheduled six months. Stein, though, was planning to stay an additional term.
"I first heard about coronavirus as everyone else was leaving," he said. "Life was pretty normal until maybe March 10."
Stein had been attending classes and teaching English when he made a trip to an art festival in Madrid. It was about that time when people started cancelling trips and there was talk of Extremadura University calling off its term.
Then, the president of Spain said the country would close borders and restrict travel.
"The CIP was good about saying, 'You can stay or you can come home,'" Stein said. "They were always good about letting me make the decision. But when the president said there would be action, I knew that was my time to leave. In three hours, I had found a flight. I got on a train to Madrid and slept at the airport on my way home."
Coming back so suddenly was the only thing he would change about his experience.
"It was surreal in a certain sense," Stein said. "It's difficult to come back when you're speaking a different language for a while. It felt like living in a dream for two months. I was teaching English to families and making relationships when I suddenly had to return. It was a surprise."
A similar story developed in Erlangen, Germany, for Jennalise Ellis '21.
Ellis is a chemistry and German double major at K. When she attended Friedrich-Alexander University in Germany, she took mostly German-language courses, but blended her majors by taking a didactic chemistry course and working as an assistant in an organic chemistry lab. She was planning on staying three more months when President Trump planned a travel ban from Europe into the U.S., and countries neighboring Germany began closing their borders.
"I was shocked when I found out that I was actually going to have to move back to the U.S., because I was hopeful that the severity of the pandemic would subside by the start of the summer semester in mid-April," she said. "I was also sad that I had to say goodbye to people and the city I got to know so well. The hardest part was that I didn't have time to mentally prepare to leave Erlangen."
It was an experience that has left her longing to go back some day.
"I definitely want to return," Ellis said. "I am considering going to graduate school in Germany."
An International Student Stays
When K students received the notification about distance learning this term, Xiu Cai '20, an international student from China, was concerned. In addition to feeling frustrated with missing the spring events of her senior year, she worried that the travel restrictions, combined with the residence halls closing, would leave her homeless. Fortunately, the CIP was there to help.
"We received some emails that said people from China and certain places in Europe would not have to leave because of the travel bans," Cai said. "When I talked with CIP, they emphasized those emails guaranteed me a place. They were supportive and helpful. I've appreciated everything they do."
Since, Cai has attended distance learning courses from her residence hall, eaten meals at the Hicks Student Center, appreciated Mail Center services and exercised by walking through campus. She also is grateful for her professors who gave support, Dining Services who provided her with meals, and the Student Health Center, which provided masks when she need them.
"I feel like being here now is a special experience, for me at least," she said. "Not everyone would have a chance to experience the same thing in their lives. I'm grateful to the school for allowing me to stay here."
Still at hand, however, is the issue of getting home after graduation. Cai has tried five times to schedule flights home for June after the Conferral of Degrees ceremony, and all five flights have been cancelled. As of now, she's uncertain when she will go home and see her family.
"I video chat with family almost every day," Cai said. When coronavirus emerged, "I was spending all my time worrying about my family. Now, they're worried about me."
Regardless, Cai said this experience, if anything, is only encouraging her to travel more.
"The coronavirus, to me, is random," she said. "You never know what will happen in the next second in life. If you have the chance, go wherever you want."
Moving forward
Moving forward, students who want to study abroad may need to consider what the "new normal" may be as the pandemic runs its course.
"I would think about what my expectations for travel might be and how we meet our new reality," Wiedenhoeft said. "I know many of our students who go to Europe, for example, love to travel. What would it mean if you're in Spain and can't go to France? That means you can still get to know different regions of Spain very well. You can go to art museums. You can find something that is interesting to you, and be flexible enough to achieve it."
Wiedenhoeft also is encouraging optimism that student immersion opportunities will stay an important part of the K-Plan.
"There are certain regions of the world that will recover first," she said. "We need to do what we can to maximize opportunities in those regions. The relationships we have with our partners will be very important in those plans. I think our relationships will be stronger because we've been in frequent contact."
In addition, "We want to encourage folks not to be disheartened," she said. "We genuinely believe we will engage with the world again and that they will engage with us. It will take time, but it will not be like this forever."