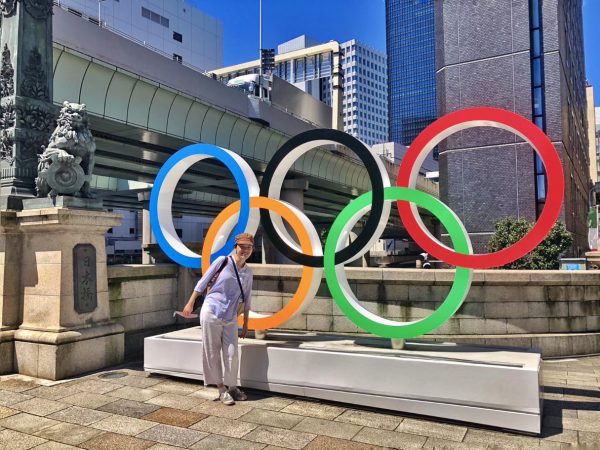 It takes dedication, perseverance and determination for the world's best athletes to reach the Olympics, just as it did for Uyen Trinh '21 to be a part of the behind-the-scenes efforts at the Summer Games in Tokyo. She was there to gain global career experience while working as an accountant in the Finance Department of Olympic Broadcasting Services (OBS). 
OBS was established through the International Olympic Committee in 2001 to produce live television, radio and digital coverage of the Olympic and Paralympic Games. Organizations such as the New York Times and NBC set up, along with OBS, at Tokyo Big Sight, an international exhibition center composed of the International Broadcast Center and the Main Press Center as the Games began.
Trinh, an international student from Vietnam majoring in business and psychology with a minor in Japanese at K, played important roles processing paperwork, receipts, documents and bills for the Olympic Games while stationed in the International Broadcasting Center. A typical six-day workweek involved a one-hour commute on the subway, a trip through security and working from 9 a.m. to 6 p.m. each day with the Olympics, lasting about a month.
Trinh gained the opportunity while studying abroad through K at Waseda University in Tokyo in 2019. At that time, a friend from the university's Tae Kwon Do club told her about training for a position at the Olympics.
"After Tae Kwon Do practice that night, I looked up OBS right away because it sounded like a fascinating opportunity," Trinh said. "I found out the application deadline was a day or two later, so I filled out and submitted the application right away in one sitting."
Trinh then proceeded to interview for the accounting position.
"In the interviews, I told them I wanted to work for the Olympics because watching the Games has always given me unforgettable feelings," she said. "And the Japanese people had been treating me really well. I thought Tokyo 2020 was a great opportunity to present Japan to the world. It was a chance for me to return the favor of their kindness and help deliver a positive image of Japan."
Her interest in accounting made the impression she left with her interviewers even more favorable.
"I said that I wanted to do accounting because I'd been keeping track of my personal expenses and it really excited me to see numbers matching up," Trinh said. "A week later I got a certificate saying I was qualified to work for the Olympics."
However, in March 2020, COVID-19 began spreading, forcing Trinh to leave Japan and putting the Games in doubt.
"I still kept a close eye on the Olympics and was disheartened when they decided to postpone the Games. I questioned my chances of coming back," Trinh said. "September 2020 was the first time I heard back from them. They asked, 'Are you still interested in working for the Olympics?' I thought, 'What do you mean? This is everything I have been waiting for.' All the logistics afterward in preparation for my departure to Japan were completed via email and the OBS portal website. I received their welcome package in February 2021 with an accreditation card, which served as my visa to enter Japan. There were a lot of requirements regarding COVID that made the week before the flight especially stressful."
Upon her return to Japan, COVID-19 regulations required her to quarantine at a hotel for the first 14 days. She was restricted to commuting only between the hotel, OBS and a convenience store next to the hotel. After those weeks, a former host family from her time on study abroad welcomed her to stay with them.
"I learned to treasure every relationship I had with people. You never know what kind of opportunity anyone could bring to you and what your relationship could grow to be. Most of my colleagues were from countries other than Japan like Spain, Bangladesh and Greece. It's just wonderful to think that working for the Olympics has enabled people from all over the world to meet and get to know each other regardless of the pandemic. Returning to Japan this time also made me realize how many meaningful relationships I have made during only six months of study abroad. This whole adventure was terrific and I'm so glad I was able to make it. Different from the abrupt departure last time because of COVID, I left Japan this time in peace and with more confidence in myself. This valuable experience will set the stage for my career in finance after K."